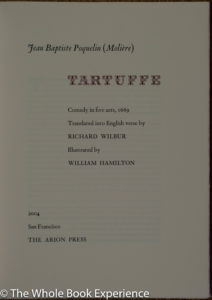 "To be flawlessly monstrous is, thank heaven, not easy."
"Life, happily, will not have it."
(Trigger warning: Politics…but, hey, it's Moliere!)
It is a bit surreal reading Tartuffe during the first 100 days of this new administration in the United States. These two lines are from the introduction to the Arion Press Tartuffe by translator Richard Wilbur. They give me hope. I haven't read Moliere before and just wasn't expecting it to be so relevant 350 years later. At the same time, it seems strange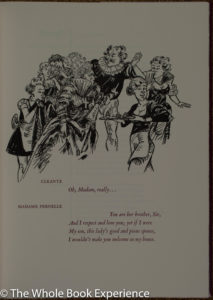 that the play was censored so strongly back in its day because even with its portrayal of Tartuffe as a religious hypocrite, it would seem a stretch for the French Roman Catholic Church to take enough offense to almost excommunicate the author. Seems pretty innocuous by the standards of our day. But one of the signs of great literature is when parallels can still be drawn and the relevance can still be there so many years later.
The play was an easy and quick read in Richard Wilbur's translation and the use of verse did not seem forced or awkward as it does in some translations. Wilbur gives some of his reasons for keeping the rhymes (and making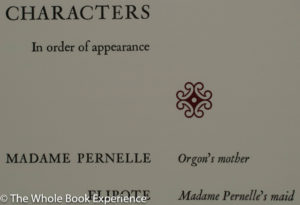 his translation task that much harder, no doubt), saying that "… rhyme and verse are required for other good reasons: to pay out the long speeches with clarifying emphasis, and at an assimilable rate; to couple farcical sequences to passages of greater weight and resonance; and to give a purely formal pleasure,…" His summary of the story line, from which come the quotes at the beginning of this review, breaks it down well: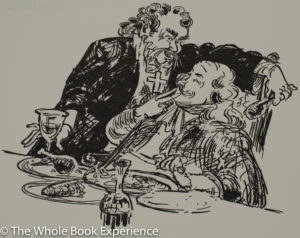 Tartuffe is only incidentally satiric; what we experience in reading or seeing it, as several modern critics have argued, is not a satire but a "deep" comedy in which (1) a knave tries to control life by cold chicanery, (2) a fool tries to oppress life by unconscious misuse of the highest values, and (3) life, happily, will not have it.
Our own personal experiences, inclinations, and interests obviously affect the parallels and relevance we see in the literature we read. Being in the tea business, I always love running across tea references or quotes above and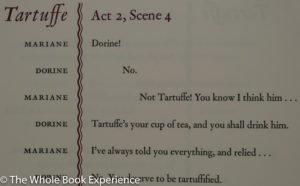 beyond the ones everyone has heard. So I've already used Dorine's two lines here a couple of times and they look to have a long future in appropriate context. This exchange occurs while chiding her mistress for her docile compliance to her father's wish that she marry Tartuffe despite her love for Valere:
DORINE: Tartuffe's your cup of tea, and you shall drink him.
MARIANCE: I've always told you everything, and relied…
DORINE: No. You deserve to be tartuffified.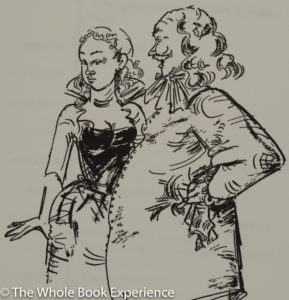 Then the clash of the patriarchy and the effects of a father's (misuse of) authority with respect to a daughter's morals definitely made me think about my own daughter and how she might respond to something of this sort. Again, it's Dorine who seems to have one of the most reasonable heads in the play, as she berates Orgon about his decision:
A young girl's virtue is imperilled, Sir,
When such a marriage is imposed on her;
For if one's bridegroom isn't to one's taste,
It's hardly an inducement to be chaste,
And many a man with horns upon his brow
Has made his wife the thing that she is now.
It's hard to be faithful wife, in short,
To certain husbands of a certain sort,
And he who gives his daughter to a man she hates
Must answer for her sins at Heaven's gates.
Think, Sir, before you play so risky a role.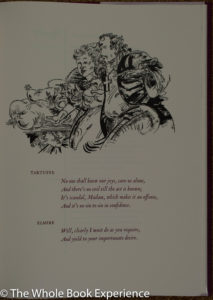 Finally, as a yogi and student of yogic philosophy, I was reminded of one definition of yoga as the "middle path", when Cleante asks his mad brother Orgon
Ah, there you go–extravagant as ever!
Why can you not be rational? You never
Manage to take the middle course, it seems,
But jump, instead, between absurd extremes.
While that question could be made from the standpoint of many a rational philosophic system, I couldn't help thinking that Cleante (or Moliere) might have a little yogi in them.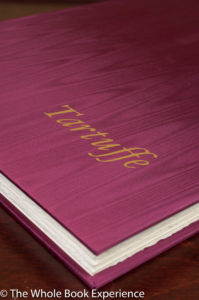 Drama is not something I read a lot of but I have discovered that when I do read it, I really like to read it in folio size, like this edition of Tartuffe. The Letterpress Shakespeare from the Folio Society are also similarly sized, and I've been reading quite a few of those lately. The large page size allows for a large type for easy reading. It is also of a size to easily read aloud while walking or standing, something I find myself doing fairly often with drama and verse.
This Arion Press edition is beautifully designed and crafted. The burgundy moiré silk over boards binding is beautiful, creating a wave-like pattern as light hits it. Instead of a slipcase, it is protected by a stiff Mylar(?) cover. The text is printed in two colors, black for the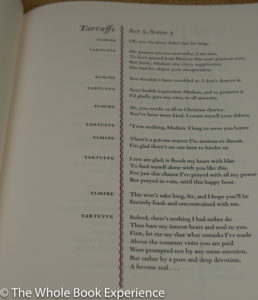 regular dialogue and a rich burgundy for the decorative type, the text below the illustrations, and the undulating rule that divides the character and dialogue on each page. The Arches mould-made paper is very nice to the touch as you read through the play, maybe even more so than usual since the quick reading of the dialogue gives ample opportunity for turning the page.
The illustrations are well fitted to the play, and reminded me of New Yorker or Playboy ink and pen illustrations even before I learned that William Hamilton has done much work for the former. Unlike a good portion of the Arion Press catalogue, where the illustrations fall more in the "Livres de Artiste" style where the artist does not always seem to have an easily seen direct correlation with the author, these illustrations correspond closely with the characters and action of the plot.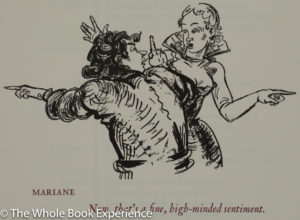 All in all, this book would definitely make it on the list of books I would like to own from the press. It's place in the canon of Western Literature, its applicability and relevance to our world today, and the beautiful design of this edition make it a no-brainer for me.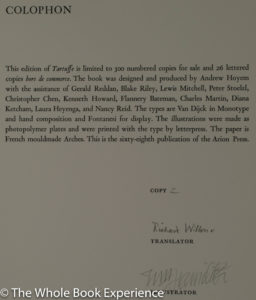 AVAILABILITY: This 2004 edition is limited to 300 copies and is still available from the press. The price is $600.
NOTE: The Whole Book Experience would like to thank Andrew Hoyem and the Arion Press for the generosity that made this review possible.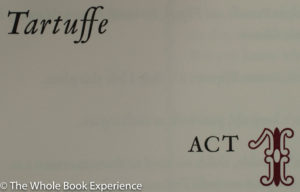 Save
Save
Save