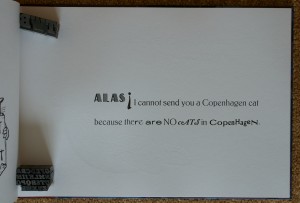 The Cats of Copenhagen is a cute little children's "story" that was written by Joyce and sent to his grandson Stephen James Joyce in 1936. According to the Preface, a love of cats was shared between the two, and had gone so far as Joyce previously sneaking his grandson sweets hidden inside of some kind of toy cat. Reading one of the two known children's stories by Joyce is a nice break for a Joycean like myself. No need for wrestling with the language and the references or an annotated guide, just bring your inner child.
I stumbled across the Ithys Press and this edition by accident while following some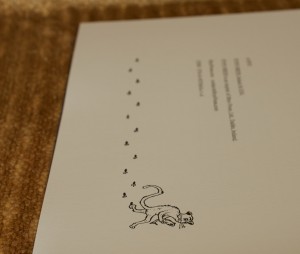 discussions of the Joyce Foundation and copyright issues with Joyce's work. As a lover and reader of all things Joyce, I was happy to be fed another fine press tidbit from the master. Fortuitously, this also led me to a very nice edition of Finnegans Wake by the Houyhnhnm Press. I still await a full fine press treatment of the Wake but am satisfied for now. And I see through the blogroll on the Ithys Press website that The Salvage Press is also exploring some Joycean ideas in their publications.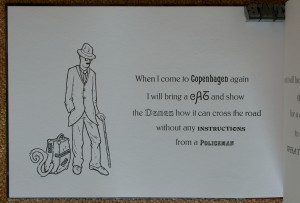 The Ithys Press website does an unusually good job of providing great photos of both editions of the book, so that fact coupled with the shortness of the story itself means I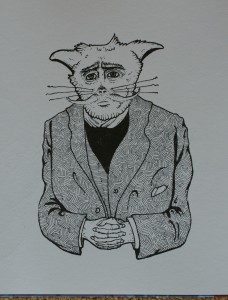 took less pictures to post here than normal. The marbled paper used to cover the book is amazing and made even more so by the sparkly ink used by

Christopher Rowlatt. I wish I could capture it in photos but it really is a treat to see it in different lighting. The flexible boards used for the cover seem appropriate for a children's story, although I wouldn't want a child handling this book unsupervised, of course. Casey Sorrow's illustrations are appropriately playful. I especially like his sketch of Joyce out for a walk with a smuggled cat in his suitcase and the pensive cat closing out the story and asking the reader "What do you think of this?" I think it's nice to see this story see the light of day after so many years.

AVAILABILITY: Definitely check out the Cats page on the Ithys Press website as there are great pictures there. It seems there are a few copies of the numbered edition available directly from the Ithys Press. A trade edition from Simon & Schuster recently became available as well.