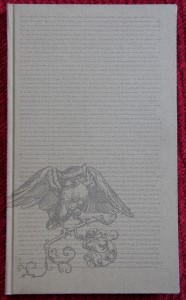 This book just leapt off the shelf at me when I was browsing at Wessel & Lieberman's in Pioneer Square, Seattle. It's an elegantly designed book of poetry about art. How Words See, or maybe how seeing turns into words for the various poets whose works are collected here. It was the cover that first caught my eye, with an owl carrying a branch across a field of words. Then once I opened it and felt and smelled the Arches Rag paper, it was almost impossible to leave on the shelf.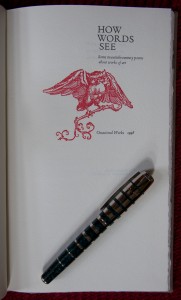 The poems are arranged in loose chronological order by subject, starting one by Mark Doty about the terra cotta soldiers discovered in Xian and ending with one by Frank O'Hara about his friend Mike Goldberg's painting Sardines. It was really fun looking up the various paintings referred to by the poets and trying to see how their words saw the painting.
In Kenneth Fields Before Sleep, he ponders De La Tour's The Magdalene with the Smoking Flame, noting that
"This room goes on forever. The dark hush
Glows like departing love that will not go."
And also that
"She holds her contemplation like a breath,
Absently fingering a burnished skull
That answers back a little of her glow."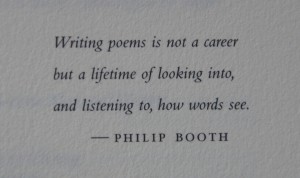 A beautiful poem about a beautiful painting that I don't remember ever seeing before. The painter captured her mood in oil and the poet followed to capture it again. How far have we gone from what the model was really pondering? We'll never know but I can certainly relate to Fields' interpretation.
In The Rokeby Venus, Robert Conquest seems to think that Valazquez might have used the pose and falsely captured mirror image to find a posture that would show as much as possible of as many of his favorite body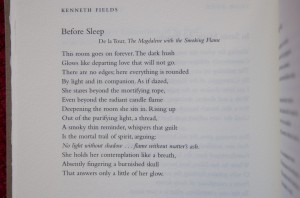 parts…without running afoul of the Inquisition, I'm sure! In May Swenson's Picasso: 'Dream', she points out things I never would have noticed in the painting, including the phallus resting against her cheek. The poem Vermeer by Howard Nemerov was especially fun trying to find all the paintings referred to in the text.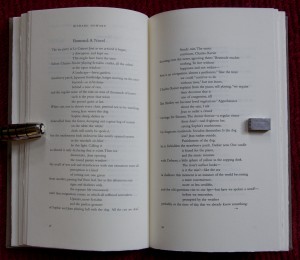 This is the first book by Occasional Works I have run across but it's a beautiful one. The layout of the text is beautiful, as can be seen in the poem Bonnard: A Novel by Richard Howard. And the pages were hand-sewn and –bound by those master binders over at Foolscap Press in Santa Cruz. A nice addition to my fine press poetry and I'll keep my eyes peeled for more from Occasional Works in the future.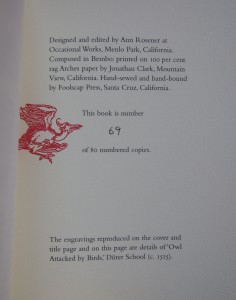 AVAILABILITY: No idea. I couldn't find much info on Occasional Works but since this was published in 1998, I suspect it is out of print. I always seem to find nice surprises like this at Wessel & Lieberman, who carry a good selection of fine press books, so it's possible that you could run across one there or on the web.
Additional images: