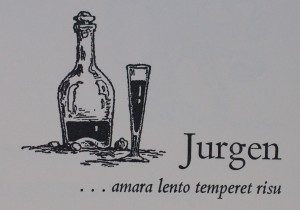 The Whole Book Experience is all about how a particular book might affect me as I read it. Of course the experience is literary. And with the fine and private press books I concentrate on for this blog, it is also sensory. But there are also intangibles like where the book came from, what the story is behind it, or a personal connection somewhere along my forty-five year reading life. These intangibles come to bear in the case of James Branch Cabell's Jurgen. My mother's mother, my nana, was kind enough to let her voracious reader and book-loving grandson pick her shelves clean. And on that shelf was 1921 The Bodley Head Limited edition of Jurgen. This is one of my family literary heirlooms.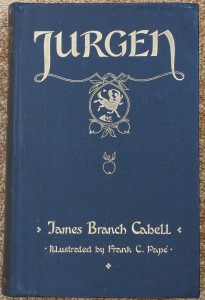 I suppose I read it for the first time when I was fourteen or so and then packed it with me through the twenty or so moves since then. The hinges were cracked, there were pen scribbles on some of the pages, and it is missing the frontispiece illustration.(I don't recall being the one who would commit such desecrations!) But the book has my Nana's name inscribed in front, wonderful illustrations and endpapers by Frank C. Papé, and all that history, so off to a bindery it was sent for repair. There is not much information on the particulars of this limited first edition but Jurgen was popular enough to go through at least 16 subsequent printings by The Bodley Head. The paper has some foxing but is nicely textured and higher quality than trade books of the '20's. It was printed by Richard Clay & Sons, Ltd., in Bungay, Suffolk.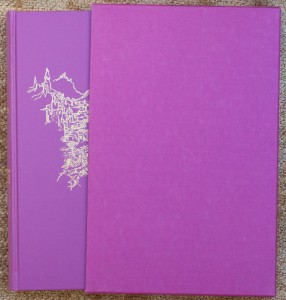 When I discovered that The Limited Editions Club (LEC) published an edition of Jurgen, I naturally wanted to acquire it to see another publisher's take on the novel and to have a reading edition I could re-visit without worrying about any more damage to Nana's copy. The LEC edition is a beauty from a time when the publisher was going through a series of owner changes. Just getting a glimpse of the illustrations by Virgil Burnett was enough to accelerate my search for a fine copy. He did a number of decorative black and white drawings that are spread throughout the text and eight wonderful water-colored full-page illustrations.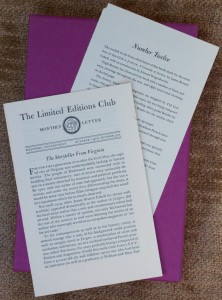 The Publication Announcement Card states that the format, binding and typography were designed by Ted Gensamer, the text was composed and printed by The Stinehour Press of Lunenburg Vermont, the hand-coloring of the illustrations were done at Walter Fischer Studio in New York City, the wove paper was specially made for this edition by the Mohawk Paper Company in Cohoes New York, and that the book was bound by Tapley-Rutter  in Moonachie New Jersey.
James Branch Cabell is not an author who's name you hear much these days. So I would like to remind everyone to pronounce his name correctly using the rhyme he used with his publisher, "…tell the rabble my name is Cabell." Apparently he was sensitive to being called "Ca-BELL". Jurgen is part of an 18 volume epic titled The Biography of the Life of Manuel . Edward Wagenknecht, a leading authority on Cabell, has this to say in his introduction for the LEC:
If Joe Lee Davis is correct in calling Jurgen "a prose saga of nostalgic libertinism such as no one had attempted since Byron wrote Don Juan," he is equally correct in calling it "as convincing a defense of monogamy as Homer's Odyssey." By the same token, Carl Van Doren was correct when he declared that "the real concern of the uproarious legend is with the voyaging, trafficking soul," and so is Arvin R. Wells when he points out that Cabell "is clearly suggesting that the modern scientific interest in sex is the last desperate shift of the spiritually bankrupt."
The prolific novelist Hugh Walpole introduces TBH edition and states that
I know no book in the English language that colours one's imagination and fancy quite as this one does—some more, some less, but none other in quite this way. The world of Jurgen with its grotesquerie, its sudden beauty, its poverty and its pity, its adventure and romance, is a world descended from earlier worlds but unique of its own period.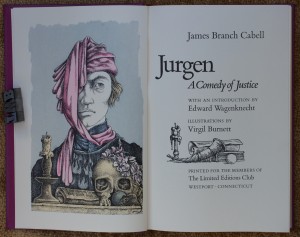 Jurgen is a poet and a philosopher, two occupations that do not do much to put bread on the table. Even though he considers himself a "monstrous clever fellow," in the interest of practicality and apparently with some nudging from his nagging wife Dame Lisa, we find him well along into a career as a pawn-broker when the book opens. In this he has achieved some measure of respectability in his village, but, as he is told later by one who should know, "Your lips conformed, but all the while your mind made verses, Jurgen. And poetry is man's rebellion against being what he is."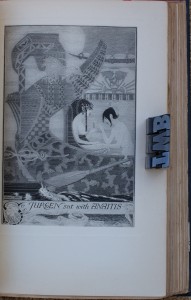 While Jurgen is subtitled "A Comedy of Justice," it could just as easily been titled  "A Comedy of the Sexes," for Cabell and Jurgen have much to say on marriage and man's relationship with the fair sex. Some of my favorite passages were:
"…May your life be free from care!"
"Save us from hurt and harm, friend, but I am already married," [replied Jurgen] (p. 8)
"She does not understand me, and she does not always treat my superior wisdom quite respectfully. That is unfair, but it seems to be an unavoidable feature of married life. Besides, if any woman had ever understood me she would, in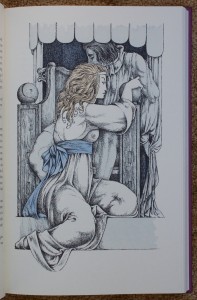 self-protection, have refused to marry me." (p. 168)
"Well, women, as he knew by experience now, were the pleasantest of playfellows." –p. 23
But the real answer is to bid you consider this well-thought-of aphorism: that a woman's honor is concerned with one thing only, and it is a thing with which the honor of a man is not concerned at all. –p. 72
"Obviously, I advise you to give thanks you were born a man, because that sturdier sex has so much less need to bother over breakage." –p. 72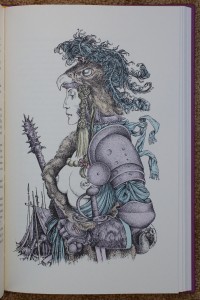 After some kind words about the devil for providing perilous and lovely snares that provide both monks and pawnbrokers with vocations, the dark Prince himself rewards him with an adventure through heaven and hell.  He spends a good part of seducing some of histories great beauties. These include Guenevere, the Lady of the Lake, Queen Helen, a hamadryad, a vampire, and the Devil's beautiful wife. His dealings with these lovely ladies are described by Cabell using clever double-entendres, and the more picaresque and risqué interpretations were not appreciated by the New York Society for the Suppression of Vice. So Cabell ended up in court around the same time James Joyce was having his problems with Ulysses. A judge sensibly cleared the book and author of any wrong-doing. In the end, Jurgen has to decide between one of these beauties and Dame Lisa.
Cabell also gets to turn Jurgen's philosophic wit on the happenings in heaven and hell.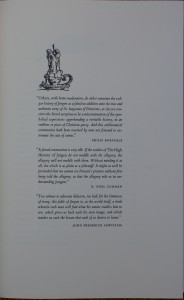 Things don't seem to run quite as smoothly in either of those places as one usually assumes. At one point, a defensive St. Peter tells Jurgen
"Now, there you go again! That is what those patronizing seraphim and those impish cherubs are always telling us. You see, we Twelve sit together in Heaven, each on his white throne: and we behold everything that happens on Earth. Now from our station there has been no ignoring the growth and doings of what you might loosely call Christianity. And sometimes that which we see makes us very uncomfortable, Jurgen. Especially as just then some cherub is sure to flutter by, in a broad grin, and chuckle, 'But you started it!' And we did; I cannot deny that, in a way, we did. Yet, really, we never anticipated anything of this sort, and it is not fair to tease us about it." (p. 246)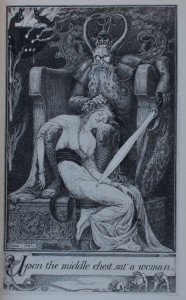 It was really a joy to re-read Jurgen again 30-plus years later. Re-visiting The Bodley Head edition while reading the Limited Editions Club and comparing the illustrations was quite enjoyable. I will seek out some of his other books in The Biography of the Life of Manuel at some point. I am almost sure that I've seen reasonably priced sets of his complete works in the past. That may be a bit too much James Branch Cabell but one never knows.
AVAILABILITY: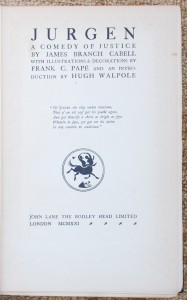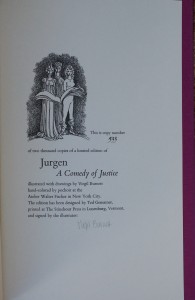 The Bodley Head Limited edition is available occasionally through antiquarian and rare book dealers at reasonable prices. The edition was limited to 3000, so there were quite a few out there at one point. Subsequent reprints of the edition are plentiful.
The Limited Editions Club also has a large limitation of 2000, so it comes up quite frequently with dealers at great prices for a book of this quality.