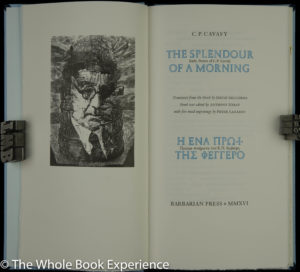 In preparing for this review, I realized that Splendour of a Morning is the ONLY modern Greek literature I have in my possession and I believe it might be the only modern Greek book I have read. The other twenty or so Greek books I do have were written millennia ago. After reading this delightful edition of Cavafy's poems, I will be remedying that situation quickly, both with more of his writing and by finding some works in translation from the modern Greek. Coincidentally, I just got a recommendation for The Scapegoat by Sophia Nikolaidou when checking out a new podcast today, called Reading Women.

So leave it to those two delightful Barbarians, Jan and Crispin, to introduce me yet again to an author and poet I was not familiar with. And to do it in a lovely edition that is a pleasure to read, hold, and just see on the shelf. They've moved my Greek reading up thousands of years and now at least I am in the 20th century. To steal a line from one of the poems in this collection, these Barbarians are a kind of solution!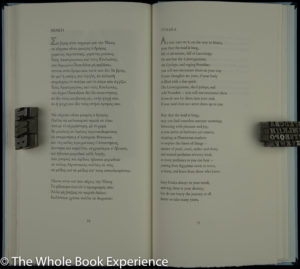 This book had an interesting gestation and was the product of many people that wanted to see Cavafy presented in this manner. Originally, it was a project of Paul Razzell's Inferno Press and Peter Lazarov had already done the illustrations before the press shut down. The manuscript was passed to Jan & Crispin to publish with generous help from others in the bookmaking community. David Smulders, whose translations of these poems originated from a trip he took to Greece to further his classical studies of and see a part of the world he (like me) had only seen through the lens of the ancient poets and writers. For this edition, he added the Introduction and a new translation of the poem Ithaka.

In the Introduction, Smulders notes that his youthful boondoggle to Greece seemed to reflect the joy of life he would soon discover in Cavafy's poetry:
As I recall, the hardest part about travelling was getting up the gumption to purchase that plane ticket. The rest was easy. This turns out to be a very Cavafyesque idea–that is, the sheer joy of going for it, ignoring all those voices of caution & fear that hold us back and stepping forward without regret.

That "Cavafyesque idea" resonated with me not in regards to a trip but in recently selling our home of 13 years and moving out of the town I have lived in for 28 years. A short jump a town over but one that caused one of the first poems in the book, The Morning Sea, to immediately catch my attention. In keeping with our dreams, we now can see the sea/ocean from our windows and I drive the coast highway a stones throw from the surf line multiple times a day. I've always thought of myself as a water spirit but now it's confirmed in the way that daily and everchanging sight affects me. Here are a few lines from the poem:
Here let me stand. And let me look on Nature awhile–
seas of the morning and the deep blue
of the cloudless sky and the golden shores, all
beautiful and ever brightening.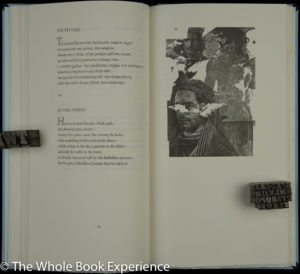 Along with a couple of other sea poems, I find myself reciting these lines as I drive, ride, and walk along the Pacific Coast.
Cavafy's poetry is varied in its subjects and its language. Here's Smulders, again from the Introduction:
One thing that appealed about Cavafy was that, in so many ways, he represented transition, the passing from one age to the next. His work was hard to pin down…His writing seems to employ what it needs of both formal & informal styles of the language to make his voice stand out. He is notorious for inserting classical or katharevousa [literary] Greek into his usual demotic style. Nor are his themes of any definite era: in one poem we might meet a character out of Homer or classical Greek history; the next moment we are in the Hellenistic period, and further on we might encounter Cavafy in his own time, savouring the memory of an old experience.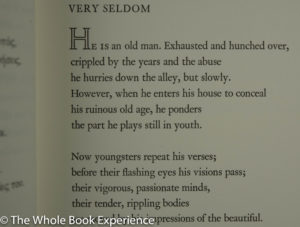 In his poemVery Seldom, Cavafy seems to nod to the ancient poets, maybe also to his contemporary favorites that were reaching the end of their genius, and maybe even unknowingly predict how some might feel about him one day. He writes:
Now youngsters repeat his verses;
before their flashing eyes his visions pass;
their vigorous, passionate minds,
their tender, rippling bodies
are moved by his impression of the beautiful.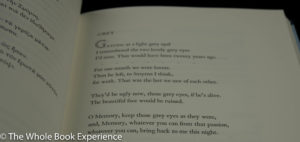 Then he's off into his own mind, nostalgically remembering a lover or friend from long ago:
O Memory, keep those grey eyes as they were,
and, Memory, whatever you can from that passion,
whatever you can, bring back to me this night.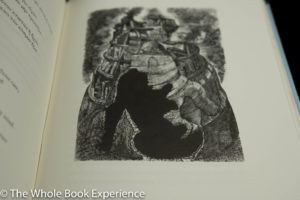 Some of the poems that struck me the deepest have that flavor of Eastern mysticism and philosophy, rivaling what you see in various forms in various motivational, psychological, and self-help best-sellers these days. In As Much As You Can, he advises us:
And if you can't live your life as you wish,
try this at least
as much as you can: don't degrade it
with too much mingling with company, with too much activity and talk.

Don't degrade it by dragging it around
from one place to another, exposing it often
to the everyday silliness
of social scenes and engagements
so that it comes to seem an impertinent nuisance.
These are ten lines that you could read and meditate on all your life before hopefully finally incorporating the wisdom within them.
And in perhaps his most famous poem, and the one that was translated specifically for this book because Crispin couldn't bear for it not to be here, he imparts even more wisdom from his experience of life:
Keep Ithaka always in your mind;
arriving there is your destiny,
but do not hurry the journey at all.
Better to take many years,
so that you reach the island an old man,
rich with all you have gained along the way,
not expecting Ithaka to give you riches.

Ithaka gave you the beautiful journey.
Without her, you would not have found your way.
But she has nothing left to give you.

And if you find her poor, Ithaka will not have fooled you.
Wise as you have become, with such experience,
by now you will have understood what all these Ithakas mean.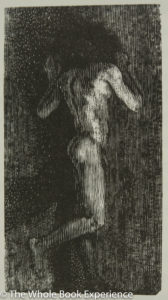 Substitute the word Ithaka for your dharma, your life's destination or destiny, and there is much wisdom there. The full poem is wonderful and will be a regular source of meditation and contemplation for me in my life going forward.
And finally, I've read his poem Waiting for the Barbarians, over and over. I've already succumbed to punning on it with respect to the press' name above. And it is just too apropos of the politics in the United States of America over the last several years:
Why is it all quiet in the Senate?
Why are the Senators not legislating?

Because the Barbarians are coming today.
What need is there for new laws from the Senate now?
When the Barbarians come they will make the laws.
Sorry. I couldn't resist.
Coming back to Smulders' Introduction, he hits on what makes these poems so accessible here:
…I confess that there is little method in my translation regarding fidelity to the technical aspects of Cavafy's poetry. As a reader I am drawn to the simplicity of his ideas & the beautiful wisdom of his voice, whether he is writing about a Persian prince or a former lover or just dwelling on the meaning of life.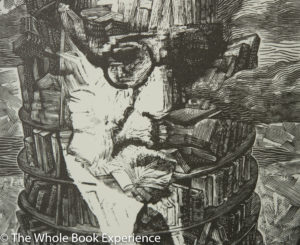 As I've come to expect from the Barbarian Press, this book is well thought out in all respects. The combination of Jan's impeccable printing of the illustrations with Crispin's eye for laying out a page and book design in general, make to most of the beauty of Cavafy's lines and Lazarov's engravings. I love that both the Greek and the translation are included, sometimes en face and sometimes on the same page, depending on the text and illustrations. Again, that eye for details and aesthetics that make the books from this press so good. And I can't love the illustrations enough in this one. Peter Lazarov is an amazing artist and illustrator. For more on him check out the Endgrains Edition Three the press published in 2003, if you are lucky enough to come across one. This is one of the BP books I was fortunate to find at a rare bookseller for a reasonable price. It is absolutely beautiful but not sure a review of it would be appropriate on this blog. In these particular illustrations, I really like how he's integrated book images into the likeness of Cavafy and other illustrations that were inspired by the poems.
So, as they have done for me so many times in the past, the Barbarian Press has introduced me to a new writer or artist in the trappings of a beautiful hand-crafted and immaculate book form. A perfect melding of literature, art, and craft, that for me, is what fine and private printing is all about.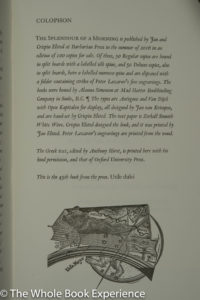 AVAILABILITY: The book was produced in an edition of 100, with 50 regular and 50 deluxe copies for sale. It looks to be sold out on the website although it might be worth contacting the press to see if any last copies are knocking about. Otherwise, I have seen an occasional book from the press on the second hand market.