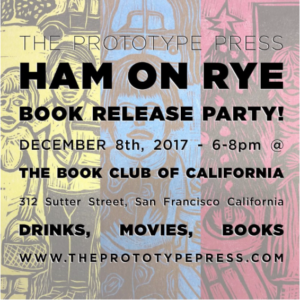 I own and have reviewed a few of the Prototype Press' books on TWBE and love the work that Mark and David have done and continue to do even after David's untimely passing. Good to see this Bukowski novel get the fine press treatment. And the illustrations seem perfect. Hope to get a closer look at the book soon even though I unfortunately can't make the Book Release Party above. More information on their website here.
The Book
Printed in an edition of 52 copies, it is 364 pages in length. The typeface used for the text is 12pt Goudy Powell. The running heads are 13pt Headline Bold. The wood type used for the chapter numbers and title page are 15 line Condensed Gothic Bold. It was printed on custom handmade cotton paper from St. Armand. Two watermarks appear throughout the book. One with the initials "CB'' for the author, the other with "HC'' for the author's alter-ego, Henry Chinaski. The illustrations, including the end sheets, were printed in-house from the carved wood blocks of Sean StarWars. Behind the illustrations, printed in black, are three tint blocks in Cyan, Magenta and Yellow. It is quarter-bound in foil-stamped pig leather (obviously), with handmade black paper from St. Armand. Housed in a black slipcase.
To Order
The price for a copy of Ham on Rye is $3,500.