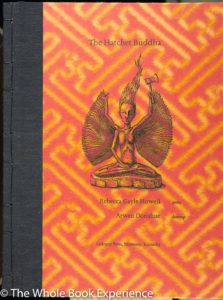 I originally came across Larkspur Press in my endless pursuit of the writings of Wendell Berry. It was a joy to discover that I could get pieces of his writings from small private presses like Larkspur and The Press on Scroll Road. I've been following Larkspur ever since and picking up all things Berry and other little gems that catch my eye from time to time. I've been meaning to post about this book for a while now and when I saw that Larkspur's owner, Grey Zeitz, was recently featured on NPR, it spurred me into action.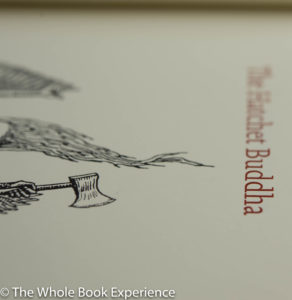 As a teacher and practitioner of yoga, and a seeker of knowledge in both eastern and western traditions, the title caught my eye first. But when I saw the cover illustration, I had to have this book. The illustration of W'manjushri by Arwen Donahue is amazing. It's been my screen wallpaper for a good little while now.
I couldn't find much information when I went out searching for more information on W'manjushri or the Hatchet Buddha, so I just have to enjoy the book for the beauty of it's poetry, it's design, and the illustrations. Nothing wrong with that, right? Rebecca Gayle Howell gives the following as background on this deity:
W'manjushri 1. In early forms, the Bodhisattva of Pining. Specifically, she seeks to be free from the suffering of love. Through her many lifetimes the wrathful deities come to her as lovers, offering to teach her a lesson. She declares she'll come back in the body of a woman until she gets it straight. In both early and late forms, she holds a cleaver in one hand and her sex in the other. Later, she is seen with one hundred arms and a flame coming out of her head. In this latter form, she is known as the Hatchet Buddha.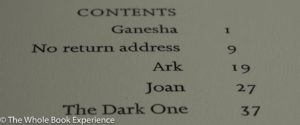 With that setting of the stage Howell goes on to document some of the deities that W'manjushri dallies with as she seeks to break out of the cycle of suffering. Interspersed with the poems are epigraph excerpted and adapted from the Tibetan Book of the Dead, Part II. In the first poem, W'manjushri is wife into Ganesha, remover of obstacles and the licentious Hindu god of wisdom and knowledge. In No Return Address she meets the devil Tshangpa Harpo followed by Noah in the poem Ark.
Somewhere on this boat I know there is a wheel
I feel it taking its own wild turns: I do not care
The very least you could have done
Was teach me how to steer
–Ark
An ark is a desire with no horizon
–Ark
Later she commiserates with Joan of Arc about getting involved with the angel Michael.
If you want to love, then love.
-Joan, p.27, epigraph

Angels are made to deliver
So when they go, a girl is left
Baited and waiting
-Joan

What do you do with what has
to be a man in a woman's body?
what do you do with what seems
to be a girl in men's clothes?
-Joan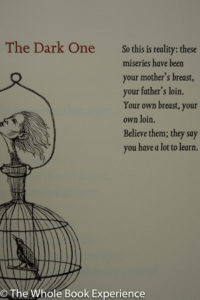 And finally, to Krishna in the last poem, The Dark One.
The poetry is darkly humorous as it relates W'manjushri's darmic path. It's left for us to wonder if she ever breaks free from the cycle of the suffering of love. Somehow it doesn't seem likely, especially given the men/deities she chooses.
As the NPR article states, Larkspur is known for producing small volumes of poetry, much of it rooted in Kentucky, for under a hundred dollars. Often the books are produced in two or three states: a paper wrapper, a hardback, and then sometimes a special edition binding on different paper. In the case of the Hatchet Buddha, the book was produced in the first two states but this hardback edition feels to me like one of their "specials" at a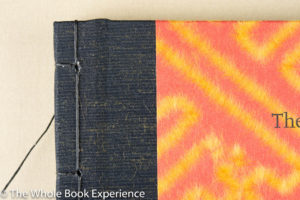 fraction of the price. The binding is a side–stabbed Japanese-style hardback with an amazingly colorful Echizen Washi paper over the front board. The silky feel of this paper makes a nice contrast to the cloth used for the back and spine.
It's amazing that delightful books of this quality are still being produced by small presses like Larkspur. And it is wonderful to be able to acquire them for about the price of some trade editions. It's great to have printers like Grey Zeitz still around and printing. I invite you to take a look at Larkspur's wonderful catalog

AVAILABILITY: 500 copies were printed on Mohawk Superfine paper and handbound in two states. Both are still available directly from the Larkspur Press.
Save