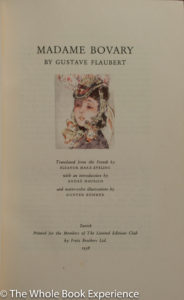 "Many of us ordinary folk find complicated ways in which to give expression to our disappointment in romance, like getting drunk, like going to the dogs, like murdering a beloved one, like marrying the wrong person. But Flaubert found a simple, forthright, logical way: he wrote a novel which satirized romantic love, which narrated the tragedy of a woman who began life with a belief in love and whose own tragic disappointment mirrored his own. The result was that Flaubert wrote, around so utterly humble a theme, the novel which is now considered the masterpiece among all French novels; and he even inspired the giving of a name to this romantic mood when Jules de Gauthier aptly called it 'Bovarysm'."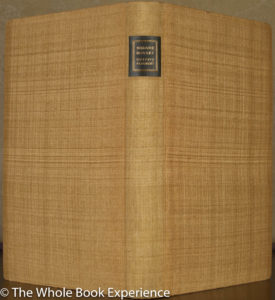 So begins the Monthly Letter of The Limited Editions Club as it describes the book it was accompanying in April of 1938. George Macy, who was probably the writer of the letter, was drawing from the excellent but a bit dated Introduction by André Maurois. Monsieur Maurois begins his Introduction with the following praise:
Spain, after countless romances of chivalry, produced a masterpiece, Don Quixote, which satirised the chivalrous spirit; and similarly France, after the great Romantic period of the early nineteenth century, brought forth the masterpiece among French novels, which was a satire on the spirit of Romanticism. The beauty of Madame Bovary derives partly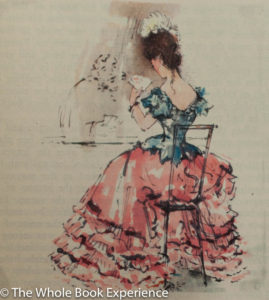 from its perfection of form, but also from the strength of Flaubert's feelings: for that repentant Romantic was hunting down, in his hapless heroine, his own errors. 'Madame Bovary is myself,' he used to say, to those who asked if there was a model who had sat for the portrait.
The novel's basic plot is based on some events that occurred to an associate of Flaubert's father early in his life. Flaubert makes it his own using his own experiences and disillusion with romanticism. It's hard to read this novel without feeling sorry for Madame Bovary, Charles, and their daughter while feeling somewhat repulsed by Rodolphe, Homais, and certainly Lheureux. But that repulsion is tempered by the fact that those characters have always existed and always will. And I suppose we all have a little Madame Bovary (or Flaubert) in us.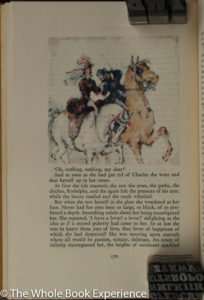 Maurois divides the novel into two parts. In the first, Emma is a believer in and a seeker of romantic love as presented in the smuggled-in novels of the day she read while in the convent. This romanticism, dampened at first when she realized her husband Charles was the antithesis of her ideal, is captured in this passage shortly after she willingly allows Rodolphe to seduce her:
But when she saw herself in the glass she wondered at her face. Never had her eyes been so large, so black, of so profound a depth. Something subtle about her being transfigured her. She repeated, 'I have a lover! a lover!' delighting at the idea as if a second puberty had come to her. So at last she was to know those joys of love, that fever of happiness of which she had despaired! She was entering upon marvels where all would be passion, ecstasy, delirium. An azure of infinity encompassed her, the heights of sentiment sparkled under her thought, and ordinary existence appeared only afar off, down below in the shade, through the interspaces of these heights.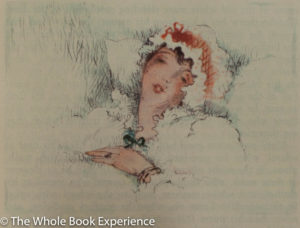 But Rodolphe is just that archetypal player with the typical lines of seduction. Nevertheless, he finds Emma a bit different than his usual conquests:
But she was so pretty. He had possessed so few women of such ingenuousness. This love without debauchery was a new experience for him, and, drawing him out of his lazy habits, caressed at once his pride and his sensuality. Emma's enthusiasm, which his bourgeois good sense disdained, seemed to him in his heart of hearts charming, since it was lavished on him. Then, sure of being loved, he no longer kept up appearances, and insensibly his ways changed.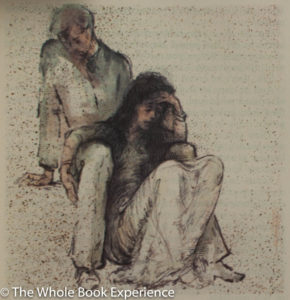 The denouement comes when she urges him to "take her away"; he breaks off the relationship and triggers the transition into the second part of the novel, where Maurois states that Flaubert "depicts the gradual changing of the romantic woman whose romance has collapsed, who still holds reality in horror and strives to numb her pain into forgetfulness by pleasure and sensual stimulation."
At the height of her hopes that her dreams of romantic love were to be realized with Rodolphe, Emma is radiant with happiness. Even the cuckolded husband Charles notices that radiance in his oblivious but devoted way: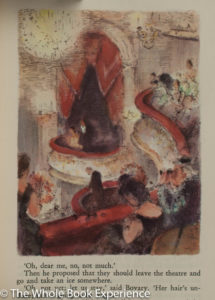 One would have thought an artist apt in conception had arranged the curls of hair upon her neck; they fell in a thick mass, negligently, and with the changing chances of their adultery that unbound them every day. Her voice now took on more mellow inflections, her figure likewise; something subtle and penetrating emanated from the very folds of her gown, from the line of her foot. Charles, as when they were first married, thought her delicious and quite irresistible.
I was interested to see that Flaubert also snuck some passages that point to an awareness of the unfair balance of power for men and women of his day, although not necessarily in a way that leads one to understand what he thought about it. We learn that Emma is very much aware of the ties and rules that bind her. As they await the birth of their child and she is still yearning for a resolution to her romantic desires, we learn: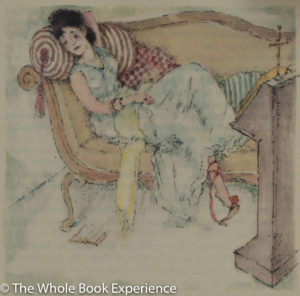 She hoped for a son; he would be strong and dark; she would call him George; and this idea of having a male child was like an expected revenge for all her impotence in the past. A man, at least, is free; he may travel over passions and over countries, overcome obstacles, taste of the most faraway pleasures. But a woman is always hampered. At once inert and flexible, she has against her the weakness of the flesh and legal dependence. Her will, like the veil of her bonnet, held by a string, flutters in every wind; there is always some desire pulling at her, some conventionality holding her back.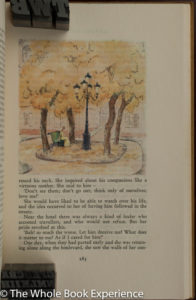 The novel proceeds to its tragic end through her attempts to pull Charles up to her image of what a successful Doctor was, her doomed hope that the clerk Léon would be the fulfillment of her desires, and her ruin.
To me this book represents a kind of perfection in the simple and elegant tradition of book design; and as a result, was a pleasure to handle and read. The small size, 5 ½ by 8 ½, and flexible French silk covered boards with an elegantly rounded spine made it easy and comfortable to hold. Despite the flexible boards, my copy has held up well through its unknown 80 year life, perhaps in part due to what Macy called an "unusually heavy board" slipcase. The slipcase has suffered a bit from doing its job well but is also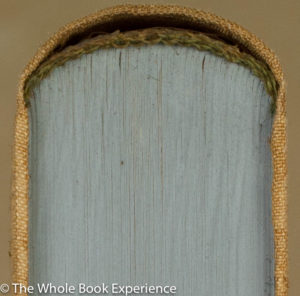 in better shape than most of the slipcases I've seen in affordable LECs of this era. The designers definitely got it right on the silk, as there is little of the fading I usually see in silk bindings even at a quarter of this books age. The Garamond type is easy on the eyes even at the relatively small 12-point size. The Swiss milled rag paper handled the bite of the type nicely and the printer obviously knew what he was doing, as the text has the nice three dimensional look typical of good letterpress printing.
The crowning jewel of this book's design is the marrying of the illustrations to Flaubert's masterpiece. Gunter Böhmer obviously had read the book and had a sympathetic artist's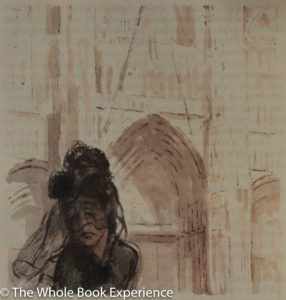 eye for Emma. While all of the approximately 50 illustrations are wonderful, Böhmer does an amazing job of capturing the emotion of various scenes in Emma's face, with the Swiss design team at Fretz Freres doing a masterful job of placing them in appropriate places to support the text. The landscapes and scenes from the book are equally captivating and beautifully colored throughout. In the Monthy Letter, it is stated that they unsuccessfully tried various methods of reproduction for Böhmer's art before they settled on chromolithography in up to nine colours. It seems they chose wisely as the illustrations so perfectly fit the scene and mood of the various passages of the book whether in bright gaily happy instances or the dark somber happenings. Indeed the color palette seems to darken appropriately as the reader approaches the tragic end.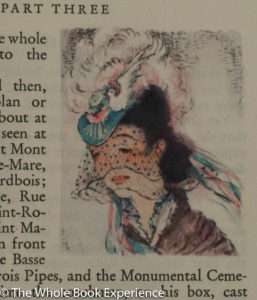 Ironically, it seems that another set of amazing illustrations persuaded Macy to reissue the novel twelve years later. This time the illustrations were by Pierre Brissaud. I have not seen that edition but it seems a very different vision of design: much larger, more pages, etc. I was able to see some of the illustrations on-line and they look very nice as well. After the LEC was distributed, an unlimited edition was published by the Nonesuch Press as a part of their Ten Great French Romances series. I have several of the Nonesuch editions that have parallel LEC or Heritage Press editions and they are quite nice. It is interesting when getting to compare the look and feel of the illustrations between the two. Maybe I'll run across the LEC edition and will be able to compare the two in the future.
So there you have it. A masterpiece of French Literature, one of the great French Romances, that is a joy to read in a simply elegant fine press edition that is surprisingly affordable.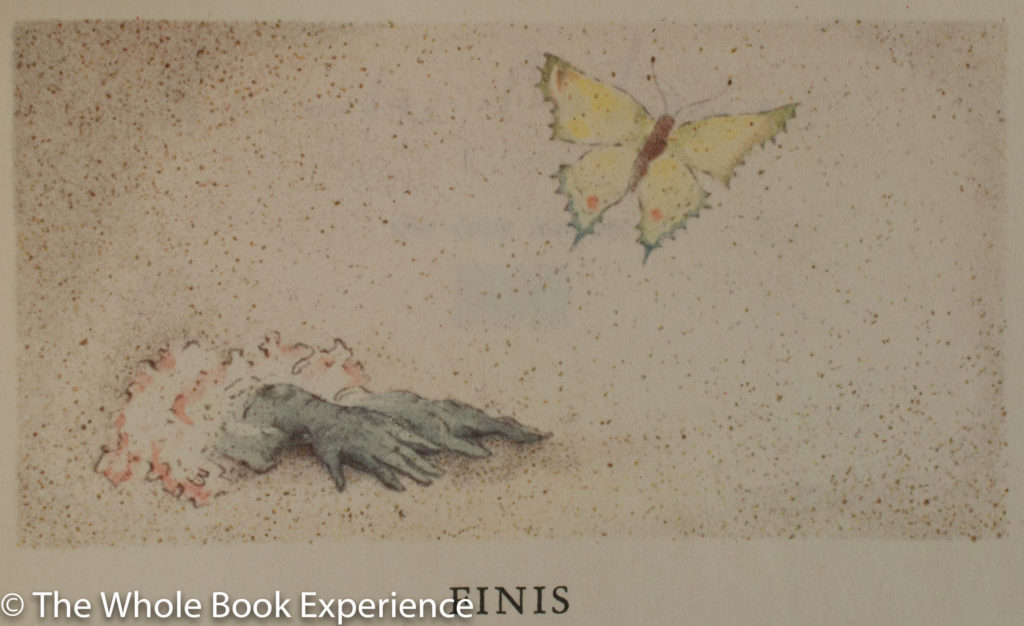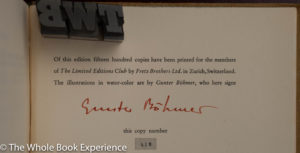 AVAILABILITY: Like most editions of The Limited Editions Club, copies can be on the secondary market. I saw prices up to about $300 on a quick Abebooks search but found mine sitting on the Iliad Bookshop shelf in North Hollywood for all of $20 a couple of months back. I consider that quite a find, as I can't imagine finding one in much better condition.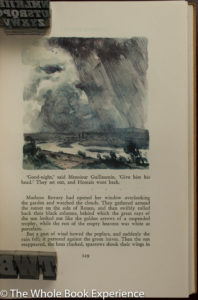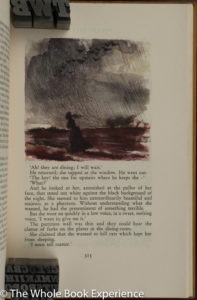 Save
Save
Save
Save
Save
Save
Save