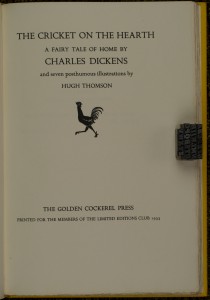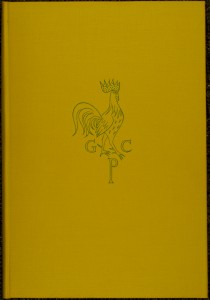 I've read a lot of Dickens in my life, but I believe the only one of his Christmas books that I've read before this review is The Chimes. I love his novels and hope to get through them all at some point in this too-short reader's life, including the rest of his Christmas books. I have reviewed two of the stage adaptations as published by the Barbarian Press. For this year's holiday review, through the kind loan from a fellow fine press lover, I had the opportunity to read and review the Limited Edition's Club edition of The Cricket on the Hearth.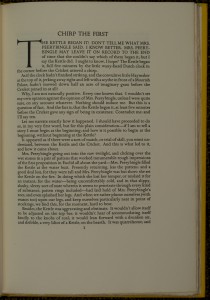 Dickens Christmas stories are probably "consumed" more these days in stage, movie, and television form. The most well known, A Christmas Carol, seems to be immortal and is a fixture of the holiday season, like the Nutcracker ballet. It's been a long time since I watched one of the adaptations but I vaguely remember an animated version of Cricket that I liked as a kid.
Be that as it may, this review is about the book in one of its finest incarnations. In the Monthly Letter that accompanied the book in 1933, it is stated (presumably by Macy himself) that Dickens is the "man who invented Christmas". I suppose that there is some literary truth to that statement given his five Christmas novellas. To get a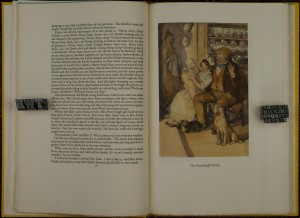 feel for the cost of a well-made book 80 years ago, Macy also states that his members will be getting a great Christmas present as they "will have paid ten good dollars (worth only six at the moment)" for their copy of the book. Interesting food for thought for lovers of fine press.
Dickens clearly wrote his Christmas stories to appeal to and influence the Christmas sentiment and popular audience of his day. And in some ways, I don't think we have changed all that much in the more than 150 years since this book was written. I still love a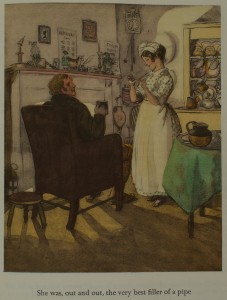 good heart-warming "fairy tale of home" at Christmas. I'm willing to suspend my disbelief and go along with the magic and, even more importantly, I like the reminder of the power of love and kindness, however it is delivered. So I tend not to expect as much from a novella like this than I would from one of Dickens full-length novels. It's hard not to love the good-hearted Carrier. And touching to see the love of Caleb for his blind daughter, even as that love causes him to build a make believe world for her that inevitable would have to come crashing down at some point. Leave it to a Dickens Christmas Book to provide a soft landing for her. And as for the ever-present spirits in his Christmas stories, well, as Dot exclaims early in the novel, "To have a Cricket on the Hearth, is the luckiest thing in the world!" And just to be sure we understand, Dickens further elucidates: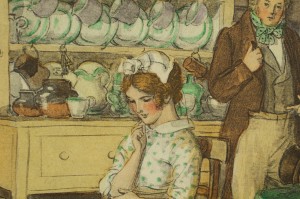 For all the Cricket Tribe are potent Spirits, even though the people who hold converse with them do not know it (which is frequently the case); and there are not in the Unseen World, Voices more gentle and more true; that may be so implicitly relied on, or that are so certain to give none but tenderest counsel; as the Voices in which the Spirits of the Fireside and the Hearth, address themselves to human kind.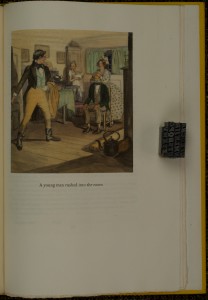 One of the glories of this edition are the illustrations by Hugh Thompson, who passed on in 1920. Originally created for a book edition that never came to fruition, Macy was only too glad to use them for a LEC edition thirteen years later. Although definitely in the style popular at the turn of the century, they are entirely fitting to the author, the story, and the edition. What more can you ask of illustrations, one might ask? It was designed, set by hand, and printed for Macy by Robert Gibbings at the illustrious Golden Cockerel Press. The type used was designed by Eric Gill exclusively for the press. Macy states in the Monthly Letter that:
"…there is actually no reason why you need to consider the letter at all. A type need not be beautiful in detail so long as it is pleasant to the eye in mass; for that is its sole purpose, to make so pleasant an impact upon the eye that words will be read more avidly for having been set in that type."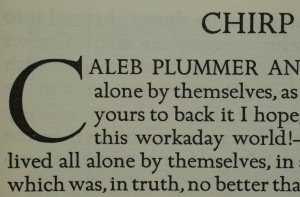 I'm sure many printers and book lovers would disagree with that opinion but regardless of one's view of type aesthetics, this is a very readable book. The paper used was hand made especially for this edition by Milbourn Mills. Apparently, Macy felt the need to explain to the subscribers not familiar with hand-made paper that the deckle is supposed to be there! He states that a similar paper was used for and earlier book and that he had to field indignant letters from subscribers claiming the paper was "a cheap and ill-made paper because of this [deckle]."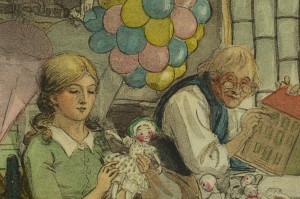 Even with my experience with Dickensian plot structure and sentimentalism, the book held a bit of a surprise twist for me at the end. I suppose it would be no spoiler to say that the book has a happy ending, as Dickens was obviously writing this in the spirit of Christmas. And my favorite part of the conclusion is this little gem of a sentence:
It was the most complete, unmitigated, soul-fraught little piece of earnestness that ever you beheld in all your days.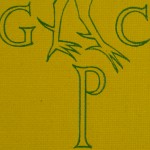 AVAILABILITY: Fifteen hundred copies were produced for the members of the Limited Editions Club. There are definitely copies out there on the secondary market, although at least an order of magnitude more expensive than the issue price Macy mentioned above.