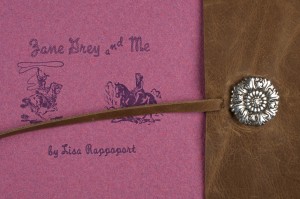 I met Lisa Rappoport of Littoral Press at CODEX 2013, where I remember having a delightful chat with her about her books and other sundry things, bought a couple of raffle tickets (only because my daughter was with me…I never win those things), and went on my merry way in the book heaven that is CODEX. A few days later I got a note from Lisa that I had won, and I promptly received a Littoral Press book that is one of the treasures of my library. You can see that book here. After loving that book, I didn't think twice when asked about reviewing the latest book from Lisa.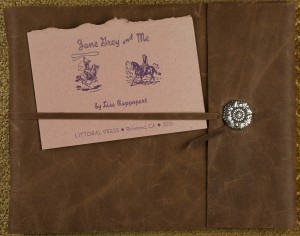 Zane Grey and Me is an interesting concept juxtaposing excerpts from Zane Grey's 1917 novel Wildfire with Lisa's western romance-influenced and horse-crazy early life. As she states in the prospectus, this arrangement allowed her to "reveal a tension between fiction and reality, past and present." After my first read through, I couldn't help but wonder what a similar book would reveal about me. It would probably mean comparing my life

with Bilbo Baggins. Not sure how that would work out! Certainly it didn't send me off looking for hobbit maids to start romances with.
For the adolescent Lisa, Zane Grey's and other author's western romances turned her into a horse-loving "Lucy" from New Jersey.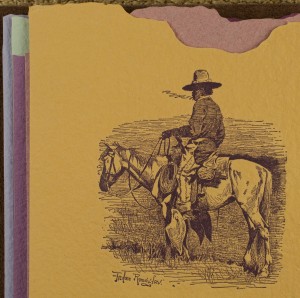 Horses fired her imagination and influenced her childhood writing, and getting horseback lessons by hook or crook was her focus. That meant spending her allowance on lessons, dropping out of college to take a job with horse benefits in Ireland and then roping other horse-related jobs throughout Europe. She discovered love didn't work like it does in those novels, or, in her words, that "shared interest in a horse works better in fiction than in life as a basis for romance."
My favorite passage is her summary of the Western Romance, with a bit of summing up the human condition as well: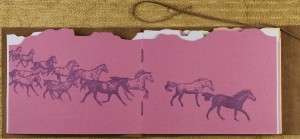 There is so much saving to be done: the taciturn rider and his horse by the girl, the girl by the taciturn rider, the father by the rider,. Is that the essence of the Western Romance? Is that what keeps some of us stalled in our own lives—waiting for the one to save or be saved by? Saving seems more doable, more proactive, but sometimes we are thwarted: people refuse to be saved. Even animals may resist. As we may ourselves.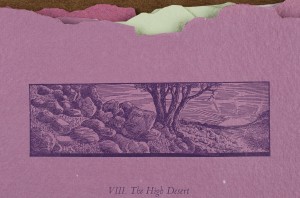 The format of the book is just as imaginative as I have come to expect from Lisa. The book is bound using an exposed longstitch binding with a cowhide cover that wraps around journal-style and is closed by a silver clasp and leather strap. Printed on eight different colors of St. Armand paper in purple ink, the tops of the pages are cut to resemble the mountains and mesas of the southwest horizon. As you turn the page and travel along in time through Lisa's life, you also seem to be traveling along in distance also as each ridge crossed gives a closer look at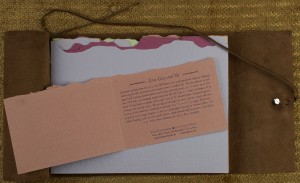 the next one while revealing yet another layer of ridges further off. Another interesting design feature is that Zane Grey's text is set via monotype composition in Farmers Old Style while Lisa's text is handset in Centaur. I don't recall running across a book that was a combination of monotype composition and handset before. The text is illustrated throughout with vintage dingbats and complemented with a beautiful illustration by Andrew Larkin of a herd of horses running across a full page spread.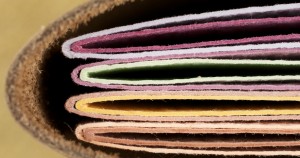 This is a wonderfully thought out book whose design features have been carefully thought out to complement the text.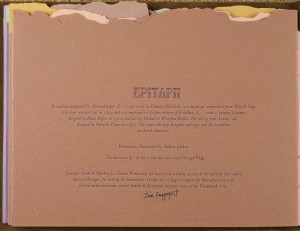 AVAILABILITY: Printed in an edition of 47 in 2015. Available directly from the Littoral Press

NOTE: The Whole Book Experience would like to thank Lisa Rappoport and Littoral Press for the generosity that made this review possible.