I'm a feminist. And I try very hard to be a good one as well as a consistent ally to the women in my life and around me. I watch my male privilege closely but oft times one can't help but unconsciously or unknowingly support the patriarchy. Lately I've been wondering exactly how  women writers fare in the fine press world. After reading so many statistics over the years about how men get represented disproportionally to women in the publishing industry in general, I decided to embark on a year of reading women writers. In 2015, I will try my best to reverse my unconscious reading habits away from writers that identify as men. And if I run out of them, I will read non-English speaking writers, non-binary gendered writers, and writers of color, all of which are also published in surprisingly small numbers in the English-speaking world.
The first step, of course, is to figure out the gender statistics of my reading habits. In 2014 I read 40 books, broken down as 23% women and 77% male writers. In 2013, it was 25% and 75%, respectively. These statistics cover everything I read in book form and not just fine press. So my goal in 2015 is to read at least 75% women-identified writers. I'm off to a good start, with 34 books already read, and 74% of them women.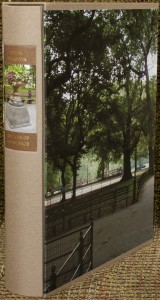 This all led me to wonder how well I could do with the books I read for this blog, i.e., fine and private press limited edition books. In looking back, I haven't done very well at all, again with no conscious intention or inclination towards male writers. In 2014 and 2015 I did not review a single book by a female writer. In 2013, it was 1 out of 9, or 11%. Here are the reviews I have done here: Sonnets From the Portuguese by Elizabeth Barrett Browning, Orlando by Virginia Woolf, The Sundial by Shirley Jackson, The Wolf's Carol by Nancy R. Jackson, and Undersea by Rachel Carson. I'll include A Flame in the Heart by Littoral Press as it is an anthology that is almost equally inclusive of men and women writers, the way you would think it should be.
To see if that was skewed compared to the fine press titles available out there, I looked at four presses that have at least 50 titles published. I wanted the number to have some statistical significance. Two of the presses, the Limited Editions Club and the Arion Press, I have reviewed regularly. Because I have a fair amount of their titles, I also included the Barbarian Press, even though they don't quite make it to the 50 publication mark. I picked two others because I had access to detailed bibliographies for them and thus could do a quick analysis. Those were the Allen Press and the Tern Press.
The Limited Editions Club has been publishing books since 1929, transitioning ownership and changing it's focus a couple of times. They published 589 books through 2010. The first woman published was Mary Shelley. Her Frankenstein was title number 53 and was published in the fifth series in 1933-1934. Another 44 books were published before Harriet Beecher Stowe's Uncle Tom's Cabin was published in 1938. In the next series, the tenth in 1939-1940, they published two women writers in the same series for the first time, Edith Wharton and Jane Austen. They did not repeat this until 1993-1994, when they published Maya Angelou and Emily Bronte. All in all, Jane Austen fared best, with five of her books published to date. In total, books by women accounted for 23 of the 589 books, or a paltry 4%.
The Arion Press does better with 9 books by women out of 103 titles, or 9%. The women published are more eclectic and quirky than the LEC's titles, including Gertrude Stein, Shirley Jackson, Sappho, Jorie Graham, Virginia Woolf. On the "safer" side were their titles by Emily Dickinson and Edith Wharton. The only woman published more than once is Diana Ketchum, wife of owner Andrew Hoyem.
The Tern Press published 137 titles of which 6 were by women. That puts them right there with the LEC at about 4%. They shared one one woman writer with the LEC, Jane Austen.
The Allen Press also fell right in with the Tern Press and the LEC at 4%. They published two women among their 51 books. One was Getrude Atherton and the other was Edith Wharton, where they published Quartet, a book containing four of her short stories.
The final press I looked at, and the one with the highest percentage of women titles, although at a less statistically significant number of total titles, was the Barbarian Press. Despite what you might expect given their moniker, they have managed to publish 4 titles out of 31 by women writers. This puts them at 13% and the top of the pile.
All this points out that while I can certainly do better with my reading and reviewing of fine press books by women authors, it's pretty grim out there. It would be problematic to get to a 50/50 split, so even if I can read standard issue books to achieve my goal overall, I won't get there here on the TWBE. Edith Wharton was represented across 3 of the presses I looked at, and the Arion Press edition of The Age of Innocence is up next for review here. Jane Austen had the most titles at six across two of the presses I analyzed. There are certainly other presses out there publishing women. Jarrett Morrison over at the Bowler Press has the audacity to hand-set Pride and Prejudice in a three-volume edition of less than 150 copies. When that herculean amazonian (see what I did there?) task is finished, I hope to review it and hopefully own it. That will also keep the fine press crown firmly atop Jane Austen's head. Foolscap Press did a wonderful edition of a short story by Ursula Le Guin that sold out quickly and the Nawakum Press published a beautiful edition of Rachel Carson that has been reviewed here. The Larkspur Press, which does wonderful books of poetry, publishes a significant amount of poetry by women.
What would I like to see get the fine press treatment? How about Harper Lee's To Kill a Mockingbird? Kate Chopin's The Awakening? Isabel Allende's The House of Spirits? Like Water for Chocolate by Laura Esquivel? Some Clarice Lispector, Simon de Beauvoir, Marguerite Duras, and Violette Leduc. Maybe some Margaret Cavendish? I know that more recent publications can be problematic due to copyright and cost. On the poetry side, I would love to see some Mary Oliver, Edna St. Vincent Millay, Nikki Giovanni, Juana Inés de la Cruz, Patrizia Cavalli, and H.D. There are so many delightful writers out there; many of them happen to be women. I hope to see more of them on mould-made paper, printed letterpress, and appearing on collector's and reader's shelves and on this blog.