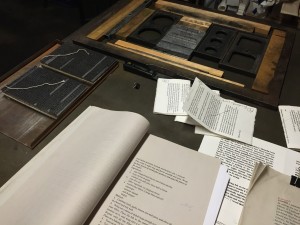 On my recent trip up to the San Francisco Bay area for CODEX, I had the pleasure of taking a short tour of the Prototype Press. The press is the imprint of David Johnston and Mark Sarigianis, both of whom spent some time at the Arion Press. David had started Sharp Teeth Press back in 2012 before teaming up with Mark, and had produced some nice books on his own . I reviewed three of his books on this blog: Thoreau's Civil Disobedience, Why Beer Matters by Evan Rail, and Kurt Vonnegut's 2BR02B.
The Prototype Press will be publishing first editions by local writers and local artist. Admirably, their vision is to create fine press books entirely in-house, from design to casting to binding. To that end, the press has been acquiring the necessary equipment and is now housed in a nice space in a old warehouse building in Oakland that houses many other artists, artisans, and businesses requiring industrial type space. A monotype composition caster, hand fed presses, a guillotine, foil stamper, and hot glue machine have all been gathered into their compact space. A couple of chairs, a ukelele, and a guitar sit in one corner for those inevitable times when they need a break or are seeking inspiration.
They are currently at work on the first book that will bear the Prototype Press imprint, a book by local eelman, writer, and poet Kirk Lombard titled Me, Myself, and the Monkeyface Eel. Oakland artist Leighton Kelly created the illustrations for the book using linoleum carvings.When they say the press is striving to do everything in house, they mean it. Mark went out with the author to fish for the monkeyface eels using the traditional "stick and poke" method, caught enough to skin and cure for the half eelskin binding of the reserved edition, and even ate some of the eels. They hand-dyed the seaweed and cotton rag paper made by the Shotwell Paper Mill in San Francisco. This is a very unique and beautiful book. Alas, I was so engrossed in the discussion about the book that I neglected to take a picture of it. But there are some great pictures on the press' website (as well as a video showing the book AND some eel fishing!). The reserved edition has a limitation of 25. They did not have a finished copy of the standard edition to show us but that will be in a limitation of 75.
At some point, I hope to get a review of Me, Myself, and the Monkeyface Eel up on the blog. But regardless of that, I'm looking forward to seeing where David and Mark take the press and hope to see many more creative and unique books from them in the future.