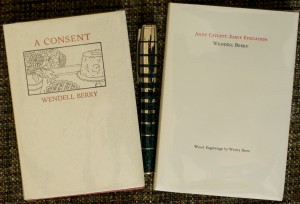 On a recent visit to San Francisco I was shocked to find a couple Larkspur Press editions at Green Apple Books. It was the first time I've run across Larkspur press editions at a bookseller. I picked up the cloth hard back state of A Consent without batting an eye to add to my special state of Andy Catlett: Early Education. I'm a sucker for any fine press edition of Wendell Berry's work as I admire him immensely as a writer, a poet, an agrarian activist, and a farmer.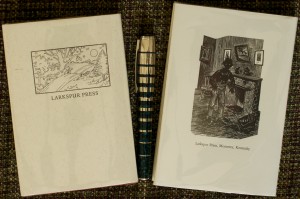 A Consent and Andy Catlett: Early Education would later be collected into books containing other stories in Berry's cycle of stories and novels concerning the fictional Port William Membership and the land they inhabit. While I've read many of his essays and much of his poetry, these are the first two fictional pieces I've read. A trade edition of Andy Catlett: Early Travels has been on my "to be read" pile for eight years and moved to the top of the queue after reading reading A Consent.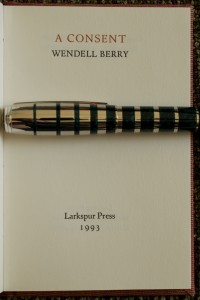 A little jewel of a love story, A Consent is a heartwarming tale of two Port William residents, a farmer and a schoolteacher, who have admired each other from afar for a good long while before fate intervenes to prompt them into action. In Berry's clear and straightforward telling there is simplicity and humour and an ability to catch the awkwardness of that first step that many of us can relate to. I will definitely be searching out the collection that contains this story, Watch With Me and Six Other Stories of the Yet-Remembered Ptolemy Proudfoot and His Wife, Miss Minnie, Née Quinch, to learn more about the two subjects of this Larkspur gem.
My A Consent is in the cloth hard back state. It has a dust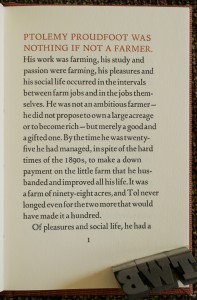 jacket in two colors with two of Carolyn Whitsel's illustrations that also appear in the book itself printed on the front and back. The paper is Mohawk Letterpress. The book was handset and printed on a handfed C&P press, which I believe is standard method of operation for Larkspur books, and then sewn and handbound into it's case. This is a beautiful book that fits easily in the hand and is a pleasure to read over and over again.
In Andy Catlett: Early Education, we meet the titular hero recalling how he went from a "sweet, tractable child" to a handful for teachers and parents alike. Berry brings us into the humorous recollection of some of the shenanigans that young Andy gets up to as if we are sitting at the table of a Catlett family reunion laughing along as he comes to his deserved come-uppance.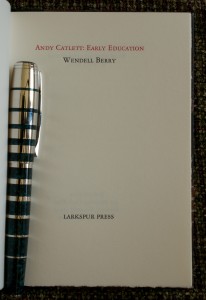 I was lucky enough to snag one of the special editions of Andy Catlett: Early Education. This state is handbound by Carolyn Whitesel using her own specially designed papers over boards. In addition, it is printed on Zerkall Book paper instead of the Mohawk Superfine used for the cloth- and paper-bound regular states. The book is signed by author and accompanied by a separate printing of the engravings signed by the artist, Wesley Bates. Definitely worth the extra cost in my book; and a bargain compared to some of the other fine press book prices out there.  But I've never been anything but delighted by any of the different states of Larkspur Press books that I've been lucky enough to read and keep on my library shelves.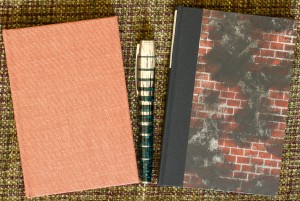 Wendell Berry has been an important influence in the way I think about food, food security, and the practice of farming. The Port Williams books are well-crafted stories that bring us the beauty and comfort of a way of living that is almost gone while illustrating the struggles and difficulties that face our farmers. I've been thinking about the corporatization of our food system a lot lately, and these books showed up right when I needed them. I'm glad there is a fine press who loves his writing as much as I, and continues to put out editions of his works.
AVAILABILITY: A Consent was published in 1993 in an edition of 1050 in two states, both of which are out of print. Andy Catlett: Early Education was published in 2010 in an edition of 1050 in three states. The special edition of 100 is out of print but both the cloth hard back and paper back show still available on the website.
Here are a couple more page shots of A Consent: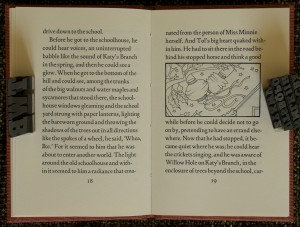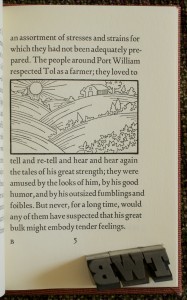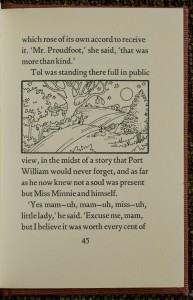 And a couple more of Andy Catlett: Early Education: