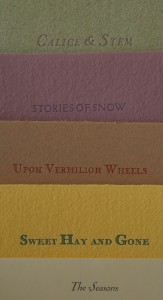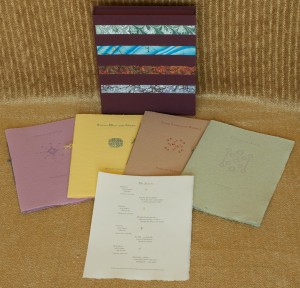 I've lived the endless summer of Southern California for long enough now that my body probably doesn't have it in it to enjoy the seasons I experienced as I grew up along the Eastern Seaboard from Rhode Island to Key West. But while I enjoy playing my tennis outdoors all year long while being able to drive up the Sierra for snow when I want it, I still sometimes long nostalgically for more memorable seasonal changes. My 25+ years here tend to blend into one long quarter-century unbroken by the years, much less seasons. So leave it to those publishing Barbarians from Canada to remind me what it is like to go lyrically through the seasons without having to scrape ice off my windshield.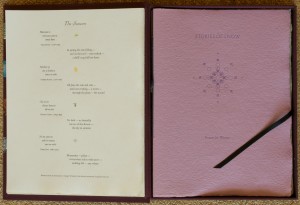 Their collection of seasonal poems, The Seasons, split into a "bagatelle" for each of the seasons, brings together Jan and Crispin Elsted's personal anthology of favorite poems corresponding to those distinct divisions within the year. According to Johnson's Dictionary, the one physical dictionary I keep on my desk, and always the first place I go for unknown words, a bagatelle is "a trifle; a thing of no importance". That may be just a reference to the small size of each pamphlet, or maybe to the shortness of many of the poems within the pamphlet, or again some of the small things one appreciates about each season. Whatever the meaning, these are collections that allow one to easily go through a season or a year in one sitting. And I found myself pulling lines or small sections that spoke to me out of the poems.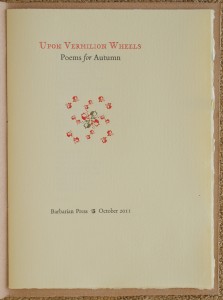 I started with Upon Vermilion Wheels: Poems for Autumn, since that is where I find myself, and immediately was struck by how 19th century Englishman John Clare could be referring to the hills around me today in California's third year of drought:
The ground parched and cracked is
Like overbaked bread,
The greensward all wracked is,
Bents dried up and dead.
As someone who reads a lot of literature in translation, I am always fascinated by the different approaches and results obtained by translators. So it is was interesting to read Crispin's translation of Rainer Maria Rilke in One Day in Autumn:
Who has no home will have no home to come.
Who is alone will be long time alone,
waken alone, read, write lengthy letters
and in the byways hereabouts will drift
disquieted in the leaves which shift and wander.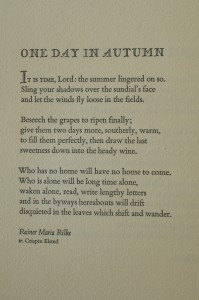 versus the Autumn Day translation that prefaces P.K. Page's poem Autumn:
Whoever has no house now will never have one.
Whoever is alone will stay alone
Will sit, read, write long letters through the evening
And wander on the boulevards, up and down…
Page ends his wonderful autumnal poem with a similar but subtly different sentiment, stating:
It is up to you
if you take your wintry restlessness into the town
and wander on the boulevards, up and down.
There is much to love here but I was also glad to see some Gerard Manley Hopkins since I have been meaning to seek more of his poetry out. His Hurrahing the Harvest is wonderful and in Song, I am struck by the line
Now I am minded to take pipe in hand
And yield a song to the decaying year;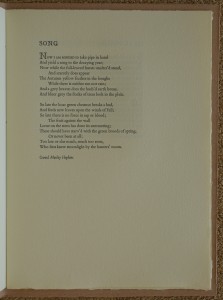 That just seems to sum up the way Autumn should be approached.
Each seasonal bagatelle, or pamphlet is designed with different types for display and uses different paper and wrappers. The paper in this case is a scrumptious hand-made Barcham Green Tovil. The feel of it is amazing and sets off the press work beautifully. I love the watermarks as well. Interspersed among the poems are designs of decorative type, making me wonder if perhaps we are getting an early peek at some of the Curwen Press ornamental type that will be the subject of a future Barbarian Press edition. The use of multiple colors adds a nice touch; I believe I counted at least four colors used in Upon Vermilion Wheels.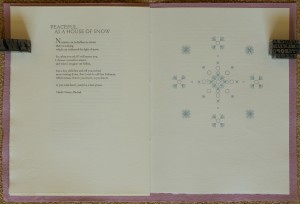 Next up was Stories of Snow: Poems for Winter, in which it is again John Clare who first resonates with his positive view of this oft-maligned season:
The winter comes I walk alone
I want no birds to sing
To those who keep their hearts their own
The winter is the Spring
The page layout I kept coming back to admire was the one with the last poem, Peaceful as a House of Snow by Heather Simeney MacLeod on the verso and a wonderful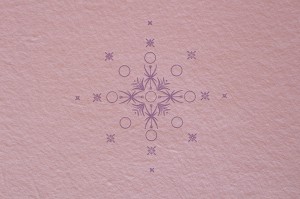 snowflake like ornament on the recto composed of decorative type in two colors. The poem reminds us that
Nothing can be hidden in winter
there is nothing
which can withstand the light of snow
The center of that snowflake ornament appears also on the title page and the wrapper, which is of paper handmade at Papeterie St-Armand in Montreal in a lovely lavender color.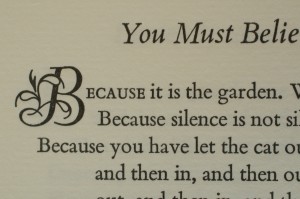 The Egmont Initials standout in the design for Calice & Stem: Poems for Spring, and the green of the handmade wrapper paper is well chosen. One of the standout poems for me was You Must Believe in Spring by Jan Zwicky, a poet that has appeared before in Barbarian Press wrappers. The whole poem sums up spring wonderfully, but I especially liked the lines:
Because you have let the cat out, and then in, and then out,
and then in, and then out, and then in, and then
out, and then in, and then out, and then in,
enough.

….

Because I love you. Or you love someone. Because someone
is loved.
….

Because even sorrow has a source.
For, though it cannot fly, the heart is an excellent clamberer.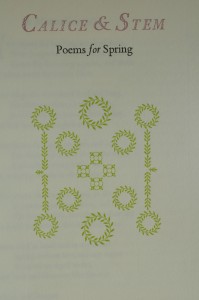 Crispin is obviously a man of many talents, as I thoroughly enjoyed his poem Narcissus pseudonarcissus, from whose last line it seems this pamphlet took its name:
On my body as I look within to see
you as you see me, grown into avid sanity, there are

calice and stem, two lines projected.
Your eyes smile peace, Dante Gabriel Rosetti  states in Silent Noon, his poem included in Sweet Hay and Gone: Poems for Summer. This final pamplet completing the cycle is in a summer-like yellow wrapper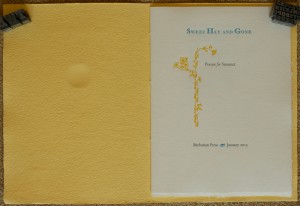 and has floral decorative type patterns throughout. Rosetti continues his love poem to summer with the lines:
So this winged hour is dropped to us from above.
Oh! clasp we to our hearts, for deathless dower,
This close-companioned inarticulate hour
When twofold silence was the song of love.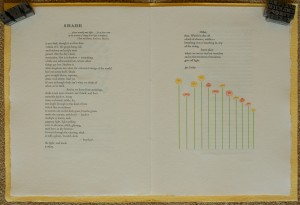 Other poems that were standouts for me were Jan Zwicky's Shade and Ebenezer Jones' High Summer, where the poet knows summer is here when:
And on some moor or hill that seeks the sky
Lonely and nakedly, –utterly lie down,
And feel the sunshine throbbing on body and limb,
My drowsy brain in pleasant drunkenness swim…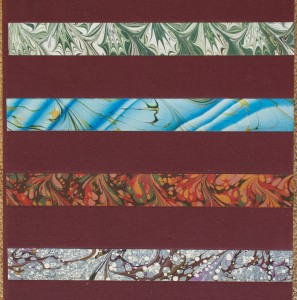 The Demeter display type sets off the poems wonderfully and the hand-made Rideau laid paper from Papeterie St-Armand rivals the Barcham Green Tovil in the Upon Vermilion Wheels. I'm not sure I could pick my favorite between the two; they are both marvelous.
The four pamphlets in the set are housed in a beautiful clamshell box decorated with strips of hand-marbled paper from the late, great Anne Muir. A single sheet of four haiku, one for each season, by four haiku masters completes the edition.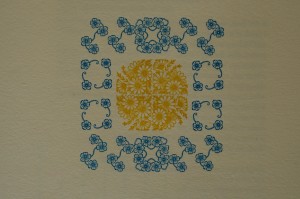 What a delightful presentation and reading experience to go through this edition as if experiencing all four seasons in a sitting. The lines above stood out for me this time, reading them as the weather slowly deepens into a mild fall here in Southern California, but who knows what lines and poems will resonate with me when I revisit them in a different season. I have been developing a new love for pamphlets and short editions of poems, in part through editions like this from the Barbarian Press. It is especially nice when a series of them is gathered up and boxed together so that they can assert themselves proudly on the shelf. Bravo, Barbarians!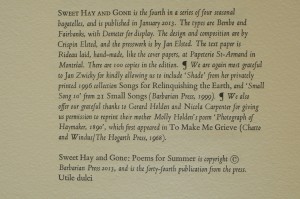 AVAILABILITY: The Barbarian Press website lags somewhat behind reality when it comes to availability, so the best thing is to contact them directly. The first pamphlet, Upon Vermilion Wheels is definitely sold out, but may still be available as part of the set. Occasionally, I get lucky and find out-of-print Barbarian Press gems on the second-hand market or from booksellers specializing in fine press.