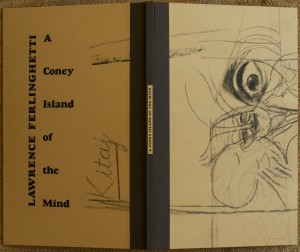 I've been visiting San Francisco regularly since I switched to the west coast from the east coast by way of university somewhere in between. One constant of my visits has been bookstores. Another has been bars. Now it leans heavily towards the former and less to the latter. But two of my favorites have always been linked: the famous Beat bar Vesuvio and Ferlinghetti's City Lights Bookstore. Both locations have more than their fair share of poetry and not a little bit of literary and other history. When the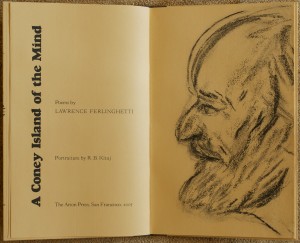 corporate bookstores could only spare a shelf or two for poetry, I could walk upstairs in City Lights and browse a whole room. It was poetry heaven on earth, whether or not it was bookended by Anchor Steams at Vesuvio.
So I'm predisposed toward Ferlinghetti for all he's done for books and poetry already. Despite enjoying his bookstore, I didn't come to him as a poet until fairly recently. First, it was through his book Poetry as Insurgent Art, which I loved. Now I get to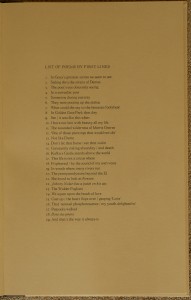 experience his poetry as channeled through the Arion Press edition of A Coney Island of the Mind.
This is a sumptuous edition right from the first touch. The mouldmade Hahnemühle Bugra covering the slipcase and used throughout the book is incredibly sensuous to the touch. I'm unsure if the same paper is used for the sides of the boards. It looks different but feels very similar. The large format allows for the poems to breathe and gave the poet and designer the ability to lay out the poems in a way that was not possible in other editions. Andrew Hoyem and his team at the Arion Press enjoyed throwing some bibliographic curveballs at us: what look like page numbers are really poem numbers, text and graphics switch orientations, etc. The slimness of the volume makes it a comfortable and easy read despite its folio proportions. It's a book I could (and did for this review) read over and over again.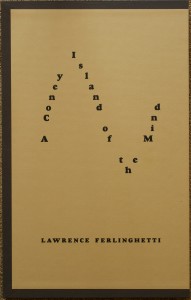 The poet first lets us in on the genesis of the title:
The title of this book is taken from Henry Miller's Into the Night Life. It is used out of context but expresses the way I felt about these poems when I wrote them—as if they were, taken together, a kind of Coney Island of the mind, a kind of circus of the soul.
I've never been to Coney Island but I can definitely see the circus of the soul in these poems as he touches on themes that make this his most well-known work. These universal themes most definitely resonate with people who speak one of the many languages this collection has been translated into.


The first poem references Goya's work, coincidentally coming at a time when I am wishing I could afford the FS's new limited edition Goya: Disasters of War. This is not the only connection to other books that happened as I reviewed this one, but more on that later. Goya's images are haunting and Ferlinghetti sees parallels to the painters 'imagination of disaster', pointing out that
"We are the same people
                           only further from home
                  on freeways fifty lanes wide
                                    on a concrete continent
                                             spaced with bland billboards
                  illustrating imbecile illusions of happiness"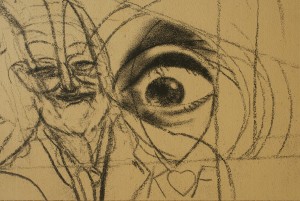 Then, making use of his 'poet's eye obscenely seeing' that kicks off the third poem, he jumps right into the fifth and the subject of Jesus Christ:
"Sometime during eternity
                                                               some guys show up
and one of them
                                    who shows up real late
                                                      is a kind of carpenter"
…
"Him just hang there
                                    On his tree
                                                               Looking real Petered out
                                    And real cool
                                                                        And also
                           According to a roundup
                                                                        Of late world news
         From the usual unreliable sources
                                                                                 Real dead"
I hear hints of a poet's muse in the tenth poem that begins 'I have not lain with beauty all my life' which leads us wonderingly to the revelation that:

"Yet I have slept with beauty
                                                      in my own weird way
and I have made a hungry scene or two
                                                               with beauty in my head
and so spilled out another poem or two"
Then he returns to the divine in poem thirteen and challenges the Dantean vision of Paradiso, saying that in his Paradise
"… there would be no anxious angels telling them
                  how heaven is
                                    the perfect picture of
                                                                                 a monarchy
                  and there would be no fires burning
                                             in the hellish holes below
                           in which I might have stepped
nor any altars in the sky except
                           fountains of imagination"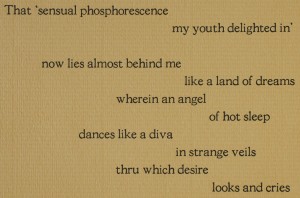 As I head into my second half century of life, I can really relate to Poem 26 which seems to me to be a paean to disregarding that meaningless number attached to our time on earth and concentrating on living fully in the time we have:
That sensual phosphorescence
my youth delighted in
now lies almost behind me
like a land of dreams
wherein an angel
of hot sleep
dances like a diva
in strange veils
thru which desire
looks and cries
And stills she dances
dances still
and still she comes
at me
with breathing breasts
and secret lips
and (ah)
bright eyes
And finally, the poet makes me a fan forever in a prose poem with a nod to many of my favorite (and his?) authors and books, ending with Joyce and his wake that never ends: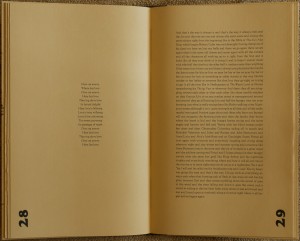 "…and everyone wondering  where and how it will all end like in the movies or in some nightmaze novel yes as in a nightmaze Yes I said Yes I will and he called me his Andalusian rose and I said Yes my heart was going like mad and that's the way Ulysses ends as everything always ends when that hunting cock of flesh at last cries out and has his glory moment God and then comes tumbling down the sound of axes in the wood and the trees falling and down it goes the sweet cock's sword so wilting in the fair flesh fields away alone at last and loved and lost and found upon a riverbank along a riverrun right where it all began and so begins again"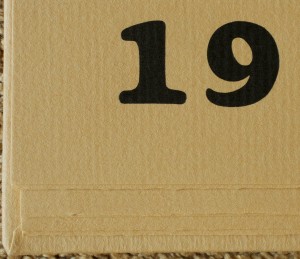 Lawrence Ferlinghetti is a national treasure and deserves the loving fine press treatment he receives from the Arion Press. As a sidenote, as I write this I learned that our precious poetry reserves were drawn down upon with the death of the wonderful Maya Angelou. One can only hope that some press sees fit to do her poetry justice like the Arion Press has done for this poet. While saddened, I don't despair because I know that there are other Angelou's out there waiting to be discovered and heard. Reading A Coney Island of the Mind led to search out other Ferlinghetti poetry, and this hopeful passage from his Populist Manifesto seems fitting even as we lose a beloved poet in Maya.
Poetry still falls from the skies
into our streets still open.
They haven't put up the barricades, yet,
the streets still alive with faces,
lovely men & women still walking there,
still lovely creatures everywhere,
in the eyes of all the secret of all
still buried there,
Whitman's wild children still sleeping there,
Awake and walk in the open air.
And speaking of the above mentioned Whitman, the next book out of the Press is an Edition of Leaves of Grass. Let's hope that it is as amazing as this edition. Look for a review here in the future. In the meantime, read some Ferlinghetti. Your life will be richer for it.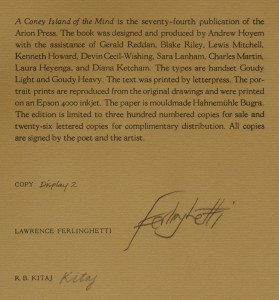 AVAILABILITY: The Arion Press edition is limited to three hundred copies and is still in print. You can buy it directly here. Just save one for me, as this review copy is not mine!

NOTE: The Whole Book Experience would like to thank Andrew Hoyem and the Arion Press for the generosity that made this review possible.