I love Whitman. Love, love, love, Whitman. I am so happy to hear that the 100th publication of the Arion Press will be Leaves of Grass.
I remember discussing possible projects with a small press at CODEX a few years back and I made the observation that it was high time that we had a new fine press edition of Whitman. The Grabhorn Press published the book in 1930. According to the Arion Press website, the edition "…is generally considered the Grabhorns' masterpiece, handset in the Newstyle type of Frederic Goudy, the most skillful and prolific American type designer, whose fonts the Grabhorns favored and put to best use." It was illustrated by Valenti Angelo in an edition of 400 and was based on the Leaves of Grass 1891 edition. The Limited Edition's Club did two editions: the first in 1929 signed (and designed?) by, Frederic Warde, and again in 1942 in two volumes illustrated and signed by Edward Weston. I read somewhere that Macy redid the book partly because he felt that he based the first LEC on an earlier Whitman edition that was missing some key poems that were added to later editions. Someday maybe I'll run across one of these and be in a position to acquire it. I don't recall any other limited editions of Leaves of Grass, although individual poems have appeared a few times. Again, The Limited Edition's Club published The Song of the Open Road in 1990 illustrated by Aaron Siskind. And I have a lovely miniature book containing the first stanza of that poem by P & D Thomas in an edition of 150 copies. That's all I am aware of in limited editions.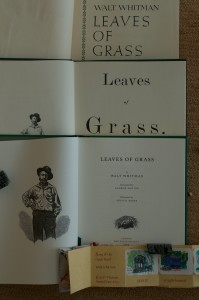 In fine editions, there have probably been many, and these will have been based on some permutation of the many editions of Leaves of Grass that came out during and after Whitman's life.
In my library (remember I LOVE Whitman), I have:
-The 1940 Doubleday, Doran, & Co. edition that I dearly love. The poems are selected and introduced by Christopher Morley and wonderful illustrations are by Lewis C. Daniel. The book was designed by  Richard Ellis with paper specially made for the edition. I love the rough (burlap?) cloth cover, as it seems just right for Whitman. Alas, my spine label is missing so I am always on the lookout for a new copy.
-The 1966 Eakins Press facsimile of the 1855 first edition as issued by Whitman and received by Emerson. This is a lovely book whose binding lettering and ornamentation was copied from first editions in the New York Public Library and the Houghton Library of Harvard University.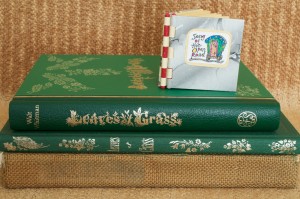 -The 2009 Folio Society edition, also based on the 1855 first edition with minor emendations. This one is introduced by Andrew Motion and illustrated by the amazing Abigail Rorer.
But I will always have room (and hopefully the wallet) for another edition of Whitman. I can't wait to hear more details on the Arion Press edition. Bravo to Andrew Hoyem and everyone at Arion Press for Leaves of Grass!
I'll leave you with one of my favorite stanzas from Song of Myself, one I have always identified with as a native of the Chesapeake Bay tidewater and lover of streams, rivers, and oceans. A nice tie-in to my previous review of Rachel Carson as well.
You sea! I resign myself to you also . . . . I guess what you mean,
I behold from the beach your crooked inviting fingers,
I believe you refuse to go back without feeling of me;
We must have a turn together . . . . I undress . . . . hurry me out of sight of the land,
Cushion me soft . . . . rock me in billowy drowse,
Dash me with amorous wet . . . . I can repay you.