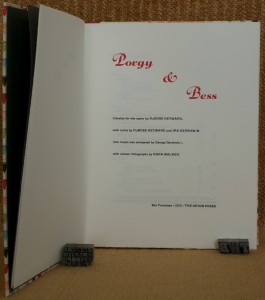 When I think of Porgy & Bess, I immediately hear the song Summertime in my head. That's the power of the associative property of music. Granted this is an opera, so music is implied, but I've never been to an opera in my life. I probably saw the movie way, way back in my youth but have no memory of it. The genius of Dubose Heyward and George Gershwin made sure that a part of their masterpiece would break out of an operatic world that was reluctant to call Porgy & Bess legitimate and firmly fix it in the American music catalog. Witness the many versions of Summertime. In just a short search of the internet, I found Ella Fitzgerald and Louis Armstrong, Janis Joplin, Billie Holiday, The Doors (Wow! I was totally unaware of this cover…), Nina Simone, Big Mama Thorton (Holy Smokes!!!), and my favorite jazz instrumental version by Miles Davis. And then there is my high school classmate and Diva, Bea Gilbert singing with the Baltimore Mandolin Orchestra.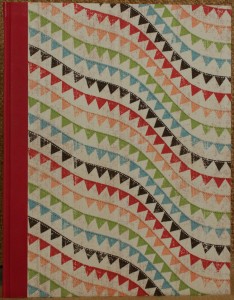 I'm always a little put out when I hear a press is going to publish plays, screenplays, librettos, and the like, as they are not my favorite genre to read. I'd rather go watch them performed. It helps when I have such a powerful positive association with the piece of work, like the song Summertime gives me to Porgy & Bess. And it looks like the Broadway Musical is coming to the Ahmanson Theatre in Los Angeles, so I can follow up my reading with the real thing, and that might make me enjoy reading the libretto that much more. After my first reading, the thing that I liked the most was that the dialogue is in the vernacular of the time. As someone who has moved around a lot in life, I've always been interested in linguistics and how language reflects place and time.
So if I'm ambivalent about the genre, why am I happy to have this book in my library? The biggest reason is the illustrations. This is one of the best pairings of text to illustrator the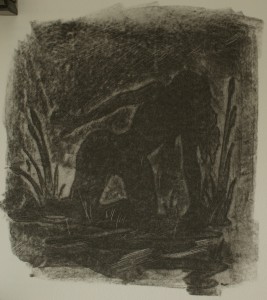 Arion Press has done in while. Kara Walker's lithographs really capture the scenes from the libretto. The grey and black tones fit this love story amidst tragedy and hard living. In her Artist's Statement, Walker writes
"…I chose to simply let them be paper cut-out caricatures whose full dimensions are alluded to by rubbing. In a sense I wanted to subject those paper figures to pressure, satisfying some implied demand that the artist perform with due diligence, and unpacking of the signifiers 'Porgy' and 'Bess'. But haven't they been through enough heartbreak?"
A small disappointment is that one of my favorite illustrations, "Porgy and Bess, Embracing", appears only in the extra suite of prints. But I'm very happy with the ones in the book.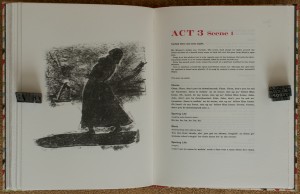 The binding in quarter red goatskin and calico cloth is striking, although the binding itself is the pretty basic flat-spine type that seems to be favored by the press recently. They could have hit it out of the park if they would have bound it in some way resembling something a director might walk around the stage with; maybe a Coptic-style binding using the same cloth for the covers and the red leather for labels on the front cover and slipcase spine.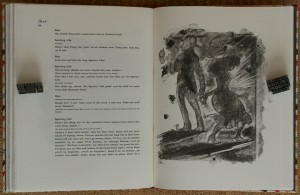 The type selection is quite nice with the use of red for Titles and Headings an elegant touch. In the prospectus, Andrew Hoyem states that "he has never used so many different typefaces in a book design." The types are Craw Clarendon, Craw Clarendon Modern Bold, Lining Gothic, News Gothic, and Gloria, printed letterpress on French mouldmade Johannot paper.
All in all, Porgy & Bess is a nice addition to the Arion Press catalog. One thing about being a subscriber to a press is that you get books you might never pick up and read otherwise. I'm sure my reading of this book will add to my enjoyment of a performance of the libretto.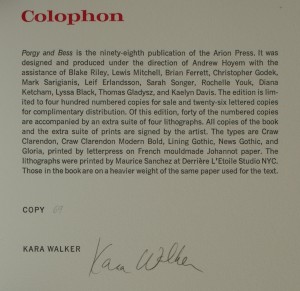 AVAILABILITY: Porgy & Bess is limited to 400 numbered copies for sale, of which 50 are accompanied with an extra suite of four prints not appearing in the book. Copies are available directly from the Press and/or it's website.