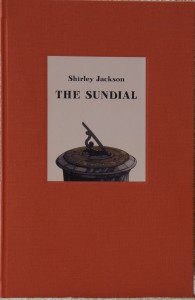 "A library is really a very good place to store things. I had never realized it before." Thus states Essex while filling the library with things needed for the next world. The books that are removed to make room are burned.
Shirley Jackson's novel from 1958 is the latest publication of the Arion Press and first release of 2011. Normally when you subscribe to a fine press, you agree to buy all the books the press put out each year in exchange for a discount. One of the side benefits of a subscription is that it tends to push you out of your typical book purchases and reading genres. Such is the case with The Sundial and me, as I was not really aware of Shirley Jackson or her comic fiction classic.
So how would you behave if you were convinced (or hopeful) that the end of the world was immanent? This is something that everyone thinks about now and again, whether it is through your faith or because you came of age after Nagasaki and Hiroshima. In this case, the wealthy Hallorans receive a message from beyond that the end of the world was coming but are comforted by being told that they and everyone in their house would be safe. This sends the household into a flurry of activity preparing for the end and imagining how they will live in the new world that only they will see. They stock up on goods they believe they might need and speculate on what the new world will be like.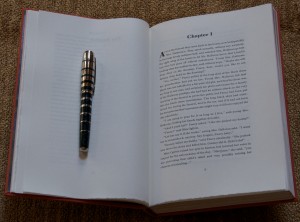 As one might expect, they do run into another group that also believes the world is ending and who are also preparing for it in a different way. But, of course, this "Society of True Believers" is viewed as a bunch of kooks even though their view of the apocalypse is not so very different from the Hallorans. It is very interesting to see the intrigues and positioning that happens among the household as the novel progresses.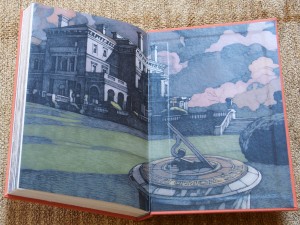 The book itself is beautiful, as I have come to expect from the Arion Press. My one main gripe about the book would be the lack of a slipcase. While I understand that a slipcase, a solander box, a chemise, or other enclosure for the book drives up expense and may also be considered a design feature, I always want something to protect books that will hopefully be sitting on my shelf for another quarter century or more. I've seen too many fine editions with sunned spines, dusty top edges, and worse. When I find a 60-year-old book in practically mint condition with a worn slipcase, I'm grateful that it was there to do its job.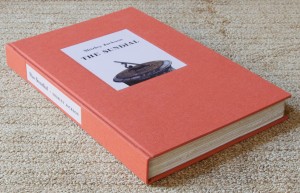 On the design side, one small thing jumped out at me right away. The flat spine with inset label is beautiful no doubt; but I couldn't help wishing for a curved spine, as I just seem to lean more towards that style than a flat or square spine. I realize this is personal preference, of course, not really a criticism. Also, the type didn't seem to bite into the paper as crisply as I'd like. There were a couple of letters I ran across that were not fully impressed or inked into the page. Maybe this is due to the choice of Fridericus type? It seems to be a somewhat delicate type. Surprisingly, I also ran across one typo. I know they work very hard in their proofreading at the press, with Andrew Hoyem usually reading the whole novel aloud for corrections during the process. That's the first time I've ever noticed this happening.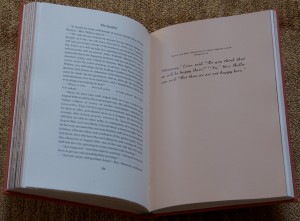 The book is a large octavo, approximately 10" by 6", and bound in a beautiful orange cloth. The paper is mouldmade Zerkall Book. Diane Johnson provides the introduction. Shirley Jackson's grandson Miles Hyman created the illustrations. There are fourteen two-page illustrations spread through the book with the quote or passage that inspired the illustration printed on the recto of the first page of each illustration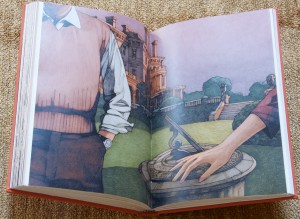 page spread. Quite an elegant touch. The illustrations are printed on McCoy Silk Book paper. More information can obviously be found on the Arion Press website.
All in all, this is another beautifully produced book from the press. I'm always anticipating what upcoming titles they have up their sleeves and find myself checking their website often or trying to wheedle it out of the staff. I like that they mix the classics with the hidden gems and obscure titles.
AVAILABILITY: This edition is limited to 300 copies and is available directly from the Arion Press.