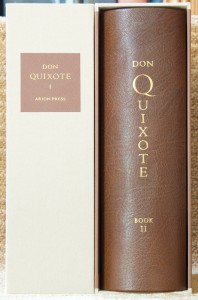 When the Arion Press announced that it would be publishing an edition of Don Quixote in the acclaimed new translation by Edith Grossman, I was ecstatic. Grossman managed to get Cervantes' masterpiece back on the best-seller lists for several months following its publication. Reviews in the New York Times called the new translation "a major literary achievement" and the "most transparent and least impeded" of modern translations. It's rare to see modern translations in fine press editions; indeed, sometimes more attention is paid to the physical book than the text itself. So it is nice to see a press that has the wherewithal to not only tackle literature of this magnitude but also use such a recent translation. My other editions of Don Q use translations from the 17th and 19th centuries.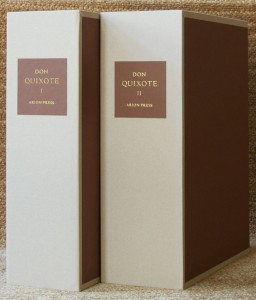 For me, another edition of a book I already own is usually only justified if I'm actually going to read it. The nice thing about reading Don Q again is that different passages stand out that I missed before. Or there might be whole sections that a translator left out. Smollett left out the whole part where Pancho soils himself in fear during the episode of the Fulling Mill. I was laughing in my chair when I read this in the Grossman translation and wondered how I could have missed it before. Obviously, Smollett thought it was inappropriate for his times.
Re-reading literature is always interesting as you pick up new nuances in the story and different passages jump out at you. As a married man and father of a twenty-something year old daughter in the 21st century, these passages show how much things have changed yet stayed the same in the 400 years since Don Q was published.
"When all is said and done, a daughter's better off badly married than happily kept." -Teresa Panza, V.II, p. 53
"If all people who love each other were to marry it would deprive parents of the right and privilege to marry their children to the person and at the time they ought to marry; if daughters were entitled to choose their own husbands, one would choose her father's servant, and another a man she saw walking on the street, who seemed to her proud and gallant, although he might be a debauchee and a braggart; for love and affection easily blind the eyes of the understanding, which are so necessary for choosing one's estate, and the estate of matrimony is at particular risk of error, and great caution is required, and the particular favor of heaven, in order to choose correctly. If a person wishes to make a long journey, and if he is prudent, before setting out he will find reliable and peaceful companionship for his travels; then why would he not do the same for the journey that takes a lifetime, until it reaches the resting place of death, and especially if his companion will be with him in bed, at the table, everywhere, which is how a wife accompanies her husband? The companionship of one's own wife is not merchandise that, once purchased, can be returned, or exchanged, or altered; it is an irrevocable circumstance that lasts as long as one lives: it is a rope that, if put around one's neck, turns into the Gordian knot, and if the scythe of Death does not cut it, there is no way to untie it." –Don Quixote, V.II, p. 172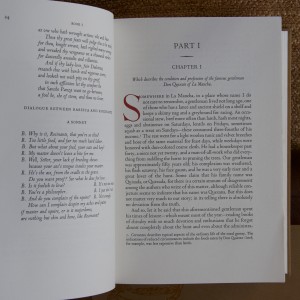 This edition is extremely readable, and not just because of the wonderful translation. With these larger works, the temptation is always there for publishers to use a small type size to save paper. The Arion Press edition is in a nicely balanced, easy to read 16 point Centaur that bites nicely into the all cotton fiber paper. The paper is extremely soft to the touch and smells very nice (yes, I smell my books, especially fine press ones with paper like this). Of course, large type means a lot of pages so it is nice to see the press print the two Books of Don Q in separate volumes.
Artist William T. Wiley provided almost 100 illustrations for the two volumes. While not my all time favorite illustrations for Don Q, he has done a great job of capturing many of the hilarious scenes in the novel. There are a couple that a classical illustrator like Dore would probably not touch but represent scenes that had me laughing out loud while reading them. At some point, I will post some pictures showing how different artists have captured the same scenes in the book.
The design of the book is outstanding. They are bound in two-tone goatskin with the spine title stamped in gold on the spine and the initials "DQ" stamped on the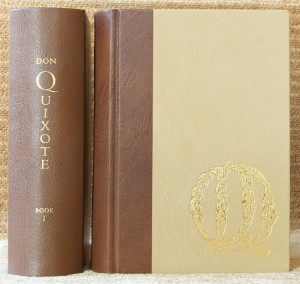 front cover. The spine is elegantly curved with the fore-edge of the text block also curving to match. It seems much more rounded than usual, which I think creates a nice look and feel. Something about the brown and tan leather binding just seems so perfectly fitting for this masterpiece of literature. I think maybe it adds the "classic" look of a binding that might sit perfectly in Don Quixote's own library.
All in all, I believe this has to be one of the best editions of this important work of world literature.
Availability: The books are still available through the Arion Press website, although they indicate that a substantial number of the edition of 400 have already been sold.