This was my first novel by Arturo Pérez-Reverte. I do read a lot of Spanish language literature in translation and also (slowly) in the original, so I am always looking for new authors to check out. The tie into Dumas didn't hurt as I've always loved his musketeers series. So when I saw the Subterranean Press was going to release one of their signed, limited editions I had all the excuses I needed to check out the work of both Pérez-Reverte and the press. One interesting anecdote about the author that I need to research further is that he initially would only allow his books to be translated into French. Hmmmm…
The book centers on Lucas Corso, a jaded book hunter who runs down rare books and manuscripts for very wealthy collectors. Here he is hired to verify the authenticity of a fragment of Dumas' manuscript for The Three Musketeers and a heretical book on black magic from medieval Italy. I found the book very compelling and hard to put down as Corso moves through Europe on a trail that leads him through murder, mystery, suicide, and satanic rituals. Not to mention a love interest that it will take me another read to really figure out. The book takes several surprising twists right as you think you know what is going to happen.
The illustrations by Vincent Chong were a perfect fit for the story. The cover design is very striking, and the five full color and sixteen duotone images spread through the text are very nice. Like most trade editions, it seems to be perfect bound although the spine folds of the gatherings are left intact. I'm not sure how that affects the quality or longevity of a perfect bound book. The paper, identified on the website as #80 Finch, is thicker and has a much better feel than your usual trade hardbacks. It's signed by the author and numbered on the limitation page. The lettered edition, which I have not seen, is "deluxe bound" and housed in a special traycase.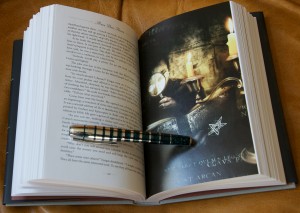 Subterranean Press specializes in the horror, suspense, and dark mystery genres not often touched by the more traditional fine presses. They carry titles by authors like Ray Bradbury, Stephen R. Donaldson, Neil Gaiman, and have taken over where the Wandering Star Press left off with publishing Robert E. Howard.
Availability: According to the Subterranean Press website, it looks like there are still copies available from the limited edition run of 500. There were also 26 lettered editions that are now sold out. I have also seen some copies surface on eBay.