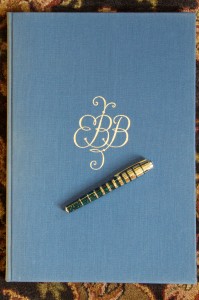 I love poetry. But I really love love poetry. And this is about as love as it gets. Elizabeth Barret Browning is right up there with some of my favorite love poets like Neruda, Denise Levertov, Robert Herrick, Joe Pulichino, and Walt Whitman. Her poems seem to me to lean both on her love for Robert Browning and on her faith. Both of those aspects weave their ways in and out of every sonnet in this book.
According to what I've read in my research, she apparently came up behind Robert Browning after breakfast and stuffed the poems into his jacket pocket, told him to read them and toss them if they weren't good, and fled up to her room. Wow! He read most of the poems and ran upstairs to …tell they were not just good, but exquisite. What a gift to him. What a gift to us that he decided they were too good not to share with the world. In the introduction by Louis Untermeyer, we learn that Robert Browning said, "I dared not reserve to myself the finest sonnets written in any language since Shakespeare's.".
For me poetry is ideally suited for the fine press treatment, whether it's letterpress chapbooks and broadsides or a finely bound book as we have here. This particular book is the 60 year old Limited Editions Club (LEC) edition illustrated by Valenti Angelo. It's amazing to me that you can still pick up copies of this edition for under $100, even with it's limitation of 1500 and the fact that it is signed by the illustrator. That's good news for those of us that love fine press books but don't always have the budget to satisfy that love. My book's slipcase is a little worn but still very serviceable. The blue linen used to cover the book's boards and the slipcase has faded a bit but the interior of the book is still pristine. The paper was made specifically for this edition by Worthy Paper Company to approximate a hand-made paper and has held up well over the years. The feel of the page is wonderful. Contrary to the more typical small books of poetry, this is a very large book at 10.5 x 15 inches. Each sonnet is placed on a generous page with a beautiful illuminated capital by Angelo. The text is taken from the last edition published in Browning's lifetime and contains her final revisions. Angelo's illuminated capitals are simple but extremely elegant with the letter itself in gold and the illustration in blue and red.
A nice feature of the Limited Editions Club's books is the Monthly Letter that accompanied the book when sent to a subscriber. These letters are a wealth of information on the details behind the material used in the books , it's genesis, and other anecdotal information. Similar information is often included in the prospectus issued by many presses but rarely do I see the wealth of information contained in these LEC Monthly Letters. I'd love to see more presses do this as it really adds to my enjoyment of an edition to know these details.
In Sonnet XIII, Browning asks:
And wilt thou have me fashion into speech
The love I bear thee, finding words enough,
And hold the torch out, while the winds are rough,
Between our faces, to cast light on each?
I think she has answered her own question with these sonnets, and it would be tough to find a better answer. All of these are gems. My favorites (from this read through) are Sonnet XIV:
If thou must love me, let I be for nought
Except for love's sake only…,
and Sonnet XXXVIII:
First time he kissed me, …
And, of course, that most famous Sonnet XLIII:
How do I love thee? Let me count the ways…
Availability: This book was published back in 1948 in an edition of 1500. As I write this there are several copies available on-line (try ILAB or Abebooks) in various conditions and it can also be found occasionally in rare and antiquarian bookshops where you can get your hands on it and assess its condition for yourself.